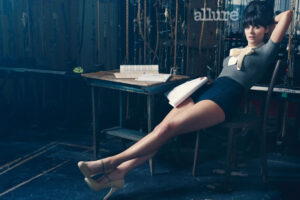 Zooey Deschanel was born in Santa Monica, CA in 1980. She is the daughter of Academy Award–nominated cinematographer and director Caleb Deschanel and actress Mary Jo Deschanel. Her paternal grandfather was French, from Oullins, Rhône; her ancestry includes Irish and French roots. She was raised as a Roman Catholic. She was named after Zooey Glass, the male protagonist of J. D. Salinger's 1961 novella Franny and Zooey. Her older sister, Emily Deschanel, is also an actress and stars in the TV series Bones.
Deschanel lived in Los Angeles, but spent much of her childhood traveling because her father shot films on location; she later said that she "hated all the traveling … I'm really happy now that I had the experience, but at the time I was just so miserable to have to leave my friends in Los Angeles and go to places where they didn't have any food I liked or things I was used to." She attended Crossroads, a private preparatory school in Santa Monica, California, where she befriended future co-stars Jake Gyllenhaal and Kate Hudson. She sang throughout high school, planning to pursue a career in musical theatre and attending French Woods Festival of the Performing Arts. She attended Northwestern University for nine months before dropping out to work as an actress.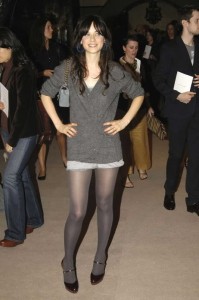 Her reticence to go bare and show off those gams made people suspicious. The Fug Girls relentlessly called her out for her reliance on hosiery. Other merciless fashion lieutenants wondered if her legs were scarred from a fire (in her lap?) or mottled with varicose veins.
The key to wearing black tights with a dress is to be sure that you're similarly shrouded from the midriff up. Meaning, a plunging neckline that points to a pair of black tights is like a river that bottoms out in a ditch. A jumper with a black turtleneck works perfectly with tights. It's all about the silhouette.