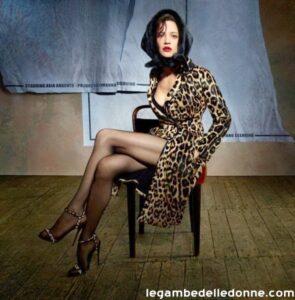 Asia Argento started acting at the age of nine, playing a small part in a film by Sergio Citti. She also had a small part in Demons 2, a 1986 film written and produced by her father, at the age of 10, as well as its unofficial sequel, La Chiesa (The Church), when she was 14, and Trauma (1993), when she was 18. She received the David di Donatello (Italy's version of the Academy Award) for Best Actress in 1994 for her performance in Perdiamoci di vista!, and again in 1996 for Compagna di viaggio, which also earned her a Grolla d'oro award. In 1998, Argento began appearing in English-language movies, such as B. Monkey and New Rose Hotel.
Argento has proven her ability to work in multiple languages, adding French, with a role as Charlotte de Sauve in 1994's La Reine Margot. That same year, she made her first foray into directing, calling the shots behind the short films Prospettive and A ritroso. In 1996, she directed a documentary on her father, and in 1998 a second one on Abel Ferrara, which won her the Rome Film Festival Award.
Argento directed and wrote her first movie, Scarlet Diva (2000), which her father co-produced.[5] Four years later she directed her second movie, The Heart Is Deceitful Above All Things (2004), based on a book by JT LeRoy, the pen name of Laura Albert, this time in the United States. According to a Paris Review interview with Laura Albert, Argento and Savannah Knoop, who played the role of JT's public persona, became lovers.
In addition to her cinematic accomplishments, Argento has written a number of stories for magazines such as Dynamo and L'Espresso, while her first novel, titled I Love You Kirk, was published in Italy in 1999. She has modeled for and endorses the brand "Miss Sixty". She became a fan of the band Hondo Maclean when they wrote a track named after her. She liked the track so much she sent them pictures which they used as the cover of their 2003 EP Plans for a better day.
From 17 to 25 October 2006, Argento contributed a video diary to Nick Knight's website, SHOWstudio. The title of the 54 entries/episodes was "Don't Bother To Knock" and detailed Argento's daily life with three entries (noon, 6 pm and midnight) posted every day. The content of the entries were partially controlled by a discussion forum and together formed a cohesive whole, a sort of "mini-movie" anyone could view for free. In the clips Argento discusses topics such as freaks, her father, Federico Fellini and her sexuality; she also journals a pregnancy, a new love interest and her unraveling psyche. The last visual of the diary is a digitally manipulated portrait of Argento taken by Knight, slowly burning away.
She appeared in Placebo's music video for "This Picture", and appeared on Placebo frontman Brian Molko's cover version of "Je t'aime… moi non plus". Argento has also starred in Catherine Breillat's period drama, The Last Mistress.
She dubbed the Italian version of the video game Mirror's Edge in the role of the runner Faith Connors.
A gallery with a collection of pics showing Asia's legs