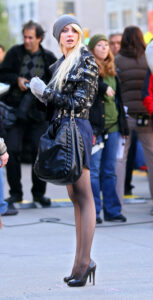 Taylor Momsen was born on July 26, 1993, in St. Louis, Missouri. Her parents are Michael and Collette Momsen and she has a younger sister, Sloane Momsen, who is also an actress. She has Russian ancestry. She was raised Roman Catholic and attended Our Lady of Lourdes Catholic School for elementary school and later attended Herbert Hoover Middle School in Potomac, Maryland. She studied dance at the Center of Creative Arts in St. Louis. Momsen was signed with Ford Models at the age of two of what she says "My parents signed me up with Ford [Modeling] at the age of 2. No 2-year-old wants to be working, but I had no choice. My whole life, I was in and out of school. I didn't have friends. I was working constantly and I didn't have a real life." She began acting professionally at three years of age with a national commercial for Shake 'n Bake. She was then cast in The Prophet's Game. In 2000, Momsen played the role of Cindy Lou Who in Dr. Seuss' How the Grinch Stole Christmas, her breakout role. In 2002, she was given the role of Gretel in the motion picture: Hansel and Gretel, as well as Alexandra, the President's daughter, in Spy Kids 2: The Island of Lost Dreams.
Momsen's career came to a halt for over three years until she received a lead role in the WB series Misconceptions, which was never aired. Also at this time, Momsen appeared in the 2006 film Saving Shiloh. She also auditioned for the title role in Hannah Montana, and was in the top three, but the role was instead awarded to Miley Cyrus—a decision that Momsen was happy with, in retrospect. In 2007 she starred in the Walt Disney Pictures film Underdog, as Molly and as Jennifer in the movie Paranoid Park, directed by Gus Van Sant.
Beginning in 2007, she played the character of Jenny Humphrey in The CW television series Gossip Girl, which is based on the book series by Cecily von Ziegesar. Momsen's appearances on the series became increasingly sporadic, and by the end of the first half of the fourth season, she had only appeared in four episodes. It was then announced that the actress would be scheduled for an indefinite hiatus from the show, which ultimately resulted in her leaving the series as a regular cast member, following the completion of the fourth season in 2011. Later that year, on August 16, 2011, Momsen told Elle magazine that she had quit acting to focus on her music career. Momsen attended the Professional Performing Arts School in Manhattan for high school education alongside Karina Pasian, Gregory Malek-Jones and Sarah Hyland.
However, on October 16, 2012, it was reported that Momsen and Connor Paolo, whose recurring role as Momsen's stepbrother had also been significantly decreased following the fourth season, would be returning to Gossip Girl for the final episode of the sixth and final season.