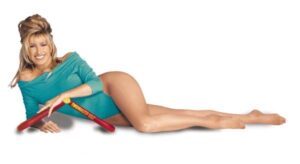 Suzanne Somers is an American actress, author, singer and businesswoman, known for her television roles as Chrissy Snow on Three's Company and as Carol Lambert on Step by Step.
Somers later became the author of a series of best-selling self-help books, including Ageless: The Naked Truth About Bioidentical Hormones (2006), about bioidentical hormone replacement therapy. She has released two autobiographies, four diet books, and a book of poetry.
Somers appeared in two Playboy cover-feature nude pictorials: in 1980 and 1984. The first set of photos was taken by Stan Malinowski in February 1970 when Somers was a struggling model and actress and did a test photoshoot for the magazine. She was accepted as a Playmate candidate in 1971, but declined to pose nude before the actual shoot. During a Tonight Show appearance, she denied ever posing nude (except for a High Society topless photo), which prompted Playboy to publish photos from the Malinowski shoot a decade later, in 1980. The second nude pictorial by Richard Fegley appeared in December 1984 in an attempt by Somers to regain her popularity after being terminated from Three's Company in 1982.