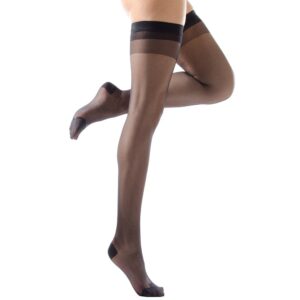 – I am still looking for RHT hold-ups in the UK or via the web anyone help?
– The Stockings HQ shop has them in abundance! To visit the RHT page click here.
– There is also a German brand called Glatt & Softig that produces an excellent line of GENUINE hold-ups with real reinforced heel and toes. They come in a variety of colours and levels of sheerness (denier). They are in almost every major department store and are well stocked.
They list for between 10-14DM, and are often on sale. My wife has been buying them for over 10 years – often bringing back a suitcase full for herself, daughter, sisters, mother and friends.
– No problems! I was just looking from with in the UK, but it is interesting that Europe does have a manufacturer of RHT other than Elbeo 🙂
Kunert is the main manufacturer of "Emotions" and also the whole "Glatt & Softig" product line of stockings and hold-ups (thigh-highs) with (and without) reinforced heels and toes. The Emotions brand is very sheer and lasts a long time. Glatt & Softig are less sheer but last forever.