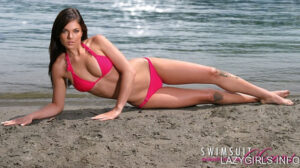 Serinda Swan is a Canadian actress. She starred as Erica Reed in the series Breakout Kings for two seasons from 2011 to 2012. She now stars as DEA Special Agent Paige Arkin in the new USA Network series Graceland, which premiered in the summer of 2013.
Swan was born in West Vancouver, British Columbia, Canada. Her father, Scott Swan, is a Canadian theatre director and actor who runs an acting studio on the north shore.
She appeared twice on the television series Smallville (in the episodes "Hex" and "Warrior") as Zatanna Zatara. She had the role of the pagan god Veritas in a season 6 episode of the TV series Supernatural. Swan began her big-screen acting career in 2009 in the rom-com The Break-Up Artist.
In 2008, Swan appeared in Theory of a Deadman's music video for their hit single, "So Happy".
From 2011 to 2012, Swan starred as Erica Reed in the A&E television series, Breakout Kings. She shared that many of the prison scenes of Breakout Kings are shot in actual prisons, while real convicts are also there behind bars. Breakout Kings was canceled on May 17, 2012.
Swan works with different charities including the Somaly Mam Foundation, United Nations Foundation's Nothing But Nets, and Heifer International.