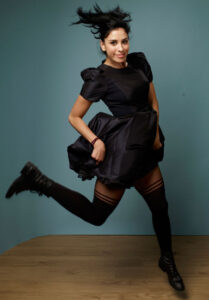 Sarah Silverman was born in Manchester, New Hampshire  to Beth Ann and Donald Silverman, and was raised in Bedford, New Hampshire. Beth was George McGovern's personal campaign photographer, and would found the theater company New Thalian Players. Donald had training as a social worker and also ran the clothing store Crazy Sophie's Outlet. Sarah's mother and father divorced and remarried John O'Hara (deceased) and Janice, respectively. Silverman is the youngest of five siblings. Her sisters are Rabbi Susan, screenwriter Jodyne, and actress Laura Silverman; her brother Jeffrey Michael died when he was 3 months old.  She considers herself Jewish, though was not "raised with any religion." After graduating from The Derryfield School in Manchester, she attended New York University and continued her standup in Greenwich Village.
After beginning her stand-up comedy in 1992, Silverman first received national attention in the 1993–94 season of Saturday Night Live (SNL) as a writer and featured player. She was fired after one season where only one of the sketches she wrote survived to dress rehearsal, and none aired, although she did appear on the show as a cast member. Bob Odenkirk, a former SNL writer, explained, "I could see how it wouldn't work at SNL because she's got her own voice, she's very much Sarah Silverman all the time. She can play a character but she doesn't disappear into the character—she makes the character her." Silverman has stated that she was not ready for SNL when she got the job. She said that when she was fired it hurt her confidence for a year, but after that nothing could hurt her. Later, she was grateful that her SNL time was short because it didn't end up defining her. She parodied the situation when she appeared on The Larry Sanders Show episode "The New Writer" (1996), playing Sanders' new staff writer, whose jokes are not used because of the chauvinism and bias of the male chief comedy writer, who favors the jokes of his male co-writers. She appeared in three episodes of Larry Sanders during its final two seasons.
Silverman was a featured performer on the HBO sketch comedy show Mr. Show (1995–97) and played the leading role in the 1997 independent film Who's the Caboose?, involving a pair of New York comedians (Silverman and director Sam Seder) going to Los Angeles during pilot season to try to get a part in a television series; the movie features numerous young stand-up comedians, many of whom have since become famous, in supporting roles but never received a widespread theatrical release. Silverman and Seder later made a six-episode television series sequel entitled Pilot Season in which Silverman stars as the same character and Seder again directed. She also made TV program guest appearances, including on Seinfeld in the episode "The Money" (1997); Star Trek: Voyager in the two-part-time travel episode "Future's End" (1996); V.I.P. in the episode "481⁄2 Hours" (2002); Greg the Bunny as a series regular (2002); and on the puppet television comedy Crank Yankers as the voice of Hadassah Guberman (2003, 2007). She made her network standup comedy debut on the Late Show with David Letterman in July 2007. She had small parts in the films There's Something About Mary, Say It Isn't So, School of Rock, The Way of the Gun, Overnight Delivery, Screwed, Heartbreakers, Evolution, School for Scoundrels, and Rent, playing a mixture of comic and serious roles.
Silverman's concert film, Sarah Silverman: Jesus Is Magic, based on her one-woman show of the same name, was released in 2005. Liam Lynch directed the movie, which was distributed by Roadside Attractions. It received 64% positive ratings based on 84 reviews on the film critics aggregate website Rotten Tomatoes, and earned approximately US$1.3 million at the box office As part of the film's publicity campaign, she appeared online in Slate as the cover subject of Heeb magazine and in roasts on Comedy Central of Pamela Anderson and Hugh Hefner.
Silverman played a therapist in a skit for a bonus DVD of the album Lullabies to Paralyze by the band Queens of the Stone Age. Silverman also appears at the end of the video for American glam metal band Steel Panther's "Death To All But Metal." On Jimmy Kimmel Live!, Silverman parodied sketches from Chappelle's Show, replaying Dave Chappelle's characterizations of Rick James and "Tyrone" as well as a Donnell Rawlings character based on the miniseries Roots. In 2006, Silverman placed 50th on Maxim Hot 100 List. In 2007, she placed 29th and appeared on the cover.