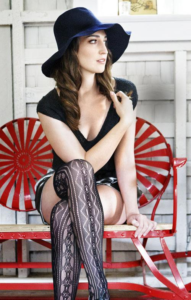 Sara Bareilles was born and raised in Eureka, California, one of three daughters of Bonnie Halvorsen (née Capellas), a funeral home worker, and Paul Bareilles, an insurance adjuster. She also stated that she has a half sister named Melody in an interview with Zooey Magazine. She is of Italian, German, Portuguese, and French descent (she speaks Italian and lived in Italy for a year). Bareilles was raised Catholic and participated in the high school choir, Limited Edition, and local community theater musical productions, including her high school's production of Little Shop of Horrors as Audrey.
After graduating from high school in 1998, Bareilles attended the Communication Studies program at the University of California, Los Angeles, where she was a member of the co-ed a cappella group Awaken a Cappella, and can be heard on their Dysfunktional Family album singing "Gravity" and "I Want You Back" by The Jackson 5. The group's rendition of Bareilles' "Gravity" was featured on the Best of College a Cappella 2004 compilation CD. Bareilles also stated on MTV's TRL that she and the band Maroon 5 have been acquainted since their younger days in California when the band was known as Kara's Flowers. She performed in the annual student concert UCLA Spring Sing, winning twice. Sara taught herself to play the piano and subsequently all other instruments she is seen playing.
After graduating from UCLA in 2002, Bareilles performed at local bars and clubs (such as the Hotel Café and Genghis Cohen in Los Angeles), building a following before performing in larger venues. She issued two demos of mostly live tracks in 2003: The First One in April and The Summer Sessions in October. In 2004, she appeared as a singer in a bar in the indie film Girl Play, performing the song "Undertow".
In January 2004, Bareilles released her first studio album, Careful Confessions. She signed a contract with Epic Records on April 15, 2005. The remainder of the year and early 2006 she spent writing and reworking songs for her upcoming album.
In mid-2004 she opened for Rocco DeLuca and the Burden during their inaugural headline tour, supported Guster on their first UK tour and co-headlined a tour with Jon McLaughlin. She toured as the opening act in 2006 for Marc Broussard's "Carencro" tour. Bareilles' song "Gravity" appeared briefly in the 2006 independent film Loving Annabelle. In 2007, Bareilles toured as the opening act for Aqualung and Mika, and later that year opened for several shows on both Maroon 5 and Paolo Nutini's U.S. tours. She also opened for James Blunt on his U.S. Tour in association with VH1 You Oughta Know.