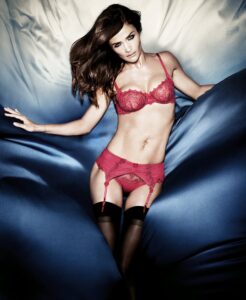 – When wearing a matching set of lingerie, my girlfriend doesn't know whether to wear her panties over or under her suspender belt, for obvious reasons. It seems all matching lingerie sets look best with the panties under the suspenders, but this is not really practical. Any suggestions anyone?
– In my opinion, always the panties over the suspender belt. With a girdle – none at all.
– I asked this question myself a while ago. After trying it both inside and outside I have to say that the best way to wear a suspender belt has to be inside your panties. I hope this helps. Let us know how it goes.
– Always on the inside makes going to the loo so much easier!!!!!!
– I agree much easier to wear the garter belt (suspenders) under the panties makes going to the bathroom much easier.
– My wife said it's always over the garter belt, for two reasons. First it's easier to go to the bathroom, and second whenever she wants to have sex its easier to slip off the panties and look real sexy in her garters and nylons, and then she doesn't have to take off so much for a quickie.
I have to agree with the rest of the ladies the suspender belt should be worn under panties.