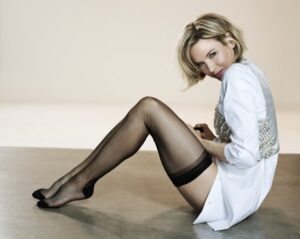 Renée Zellweger was born on April 25, 1969 in Katy, Texas. Her father, Emil Erich Zellweger, is from Au, a small town in the canton of St. Gallen, Switzerland, and is a mechanical and electrical engineer who worked in the oil refining business. Her mother, Kjellfrid Irene (née Andreassen), a native of Norway, has Norwegian, Kven (Finnish), Swedish, and possible Sami, ancestry; Kjellfrid grew up in Kirkenes and Ekkerøy, and is a nurse and midwife who moved to the United States to work as a governess for a Norwegian family in Texas. Zellweger has described herself as being raised in a family of "lazy Catholics and Episcopalians".
While in junior high school, Zellweger participated in several sports, including soccer, basketball, baseball, and football. She attended Katy High School, where she was a cheerleader, gymnast, speech team member, and drama club member. After high school, she went to the University of Texas at Austin to major in English language. At the beginning, she took a drama class because she needed a fine arts credit to complete her degree, but the experience made her appreciate how much she loved acting. During this time, she supported herself by taking jobs as a waitress in Austin, Texas. She said that she earned her Screen Actors Guild card doing a Coors Light beer commercial while in college. Also while in college, she did "a bit part … as a local hire" in the Austin-filmed horror-comedy My Boyfriend's Back, playing "the girl in the beauty shop, maybe two lines. But the beauty shop [scene] got cut."
Zellweger graduated from college in 1991 with a BA degree in English. Her first job after graduation was working in a beef commercial, while simultaneously auditioning for roles around Houston.
In 2001, Zellweger gained the prized lead role as Bridget Jones, playing alongside Hugh Grant and Colin Firth, in the British romantic comedy film Bridget Jones's Diary, based on the 1996 novel Bridget Jones's Diary by Helen Fielding. The choice came amid much controversy since she was neither British nor overweight. During casting, Zellweger was told she was too skinny to play the chubby Bridget, so she quickly embarked on gaining the required weight (20 pounds) and learning an English accent. Her performance as Bridget received praise from critics with Stephen Holden of The New York Times commenting, "Ms. Zellweger accomplishes the small miracle of making Bridget both entirely endearing and utterly real." This role won her first Best Actress Academy Award nomination. Along with receiving voice coaching to fine-tune her English accent, part of Zellweger's preparations involved spending three weeks working undercover in a "work experience placement" for British publishing firm Picador in Victoria, London. In 2002, she starred with Michelle Pfeiffer in White Oleander. The same year, she appeared as Roxie Hart in the critically acclaimed musical film Chicago, directed by Rob Marshall, co-starring Catherine Zeta-Jones, Richard Gere, Queen Latifah, and John C. Reilly. The movie won the Academy Award for Best Picture, and Zellweger received positive reviews. The San Francisco Chronicle's web site SFGate commented, "Zellweger is a joy to watch, with marvelous comic timing and, in her stage numbers, a commanding presence." The Washington Post noted that even though Zellweger couldn't dance well in real life, the audience "wouldn't know it from this movie, in which she dances up a storm." She earned her second Academy Award nomination as Best Actress, as well as the Screen Actors Guild Award and Golden Globe Award.