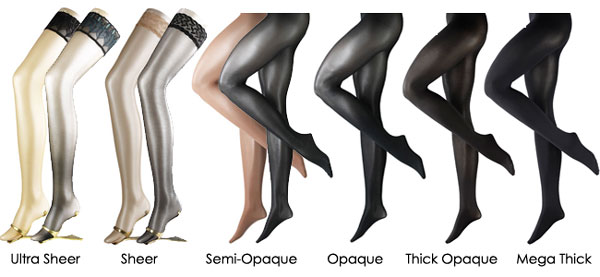 – I'm no fan of thick opaques but on separate occasions in the last week I've seen three ladies (one each in their early 20s, late 30s, and mid 40s), all of whom were attractive, all smartly dressed for work (the oldest in a corporate grey suit), and all with skirts at knee length. Each of these was wearing shoes with not-too-chunky heels (4″, 3″ 2″ respectively). Their expensive-looking tan-coloured hosiery (50% chance of stockings I'd guess) must have been 20 denier at least i. e. semi-opaque with a slight shine, and very taut with no wrinkling. No bumps, reinforced heels or welts in sight unfortunately. I can't believe these ladies were wearing support tights!
Has anyone else had attractive sightings of higher denier hosiery, or comments to make on these sightings?
– Although there are many 'opaque-phobic' contributors on this site: an attractive woman, beautifully dressed, with nice legs encased in opaques with nice shoes can still be sexy.
Last fall I purchased Charnos 10 denier appearance, high sheen stockings. These stockings gave the appearance they were higher denier. They had a high Lycra content (about 17%) and were not as sheer as I expected. In fact, my husband said they looked like "support hose" on me.
They served my purpose for work-day attire, but do not possess the sheerness I seek for evenings. I prefer 100% nylon stockings for evening wear – and wear true 10 denier stockings for special occasions. In spite of their comfort, I do not expect to purchase them again. Other manufactures have comfortable stockings for work with a much lower Lycra content. But different preferences make each of us unique. To each their own!
I have to admit that sometimes, I find these even more attractive, (especially on very shapely legs) as it lends an air of mystery to the legs/ankles! I also think the sheerer types definitely help all legs look sexier.