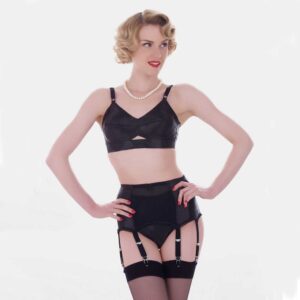 – For all the suspender (garter) wearers out there, how deep do you attach your suspenders into the stocking tops to ensure they stay put all day? Is it 1/2″, 1″ or 1 1/2″? And is there a depth at which it doesn't work, ie popping happens? Thanks in anticipation.
– I prefer to attach the garter approximately an inch into the front of the welt and in back just above the finishing loop.
– I have taken to wearing my Touchables a little more frequently of late. Previously it was around January that I last had them on. I am becoming a lot more partial to my FFs, but of course not for everyday business wear.
I attach the clips as deeply as possible, right at the edge of the welts, and this keeps the stockings relatively wrinkle free. The back suspender is attached the same way, just next to the loop, and I had no problems with the seams moving.
– My wife prefers the tightest possible fit so I try to attach the garter tab as far down into the welt as possible without creating a potential "pop." The exact position varies depending on whether the stocking is stretchy or not. It is also important to remember to adjust the garter strap length for maximum tautness. Garter straps were made to be adjusted. But, I'd wager that many wearers leave the tab settings exactly where they were when purchased.
On FFs that are not stretchy at all, best way is very deep fastening in the welt. Because I prefer longsized stockings, for me it´s always about 1 1/2 inches or so.