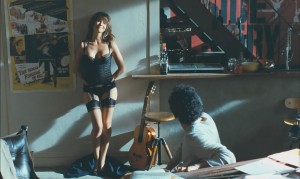 Sophie Marceau was born 17 November 1966 in Paris, the second child of Simone (née Morisset), a shop assistant, and Benoît Maupu, a truck driver. Her parents divorced when she was nine years old.
In February 1980, Marceau and her mother came across a model agency looking for teenagers. Marceau had photos taken at the agency, but did not think anything would come of it. At the same time, Françoise Menidrey, the casting director for Claude Pinoteau's La Boum (1980), asked modeling agencies to recommend a new teenager for the project. After viewing the rushes, Alain Poiré, the director of the Gaumont Film Company, signed Marceau to a long-term contract. La Boum was a hit movie, not only in France, where 4,378,500 tickets were sold, but also in several other European countries. In 1981, Marceau made her singing debut with French singer François Valéry on record "Dream in Blue", written by Pierre Delanoë.
In 2012, Marceau played a forty-something career woman who falls in love with a young jazz musician in Happiness Never Comes Alone. In 2013, she appeared in Arrêtez-moi (Arrest Me) as a woman who shows up at a police station and confesses to the murder of her abusive husband several years earlier.