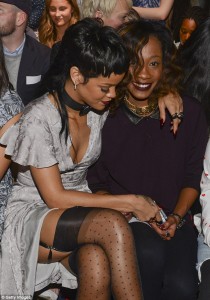 "On the question of telling between stockings and tights one can't differentiate between them on creases alone, there is more info needed. However on the what I would call 'fitted' stockings then creasing can occur at the knees as well. One can tell if they're full fashioned or RHT types as these are distinctive, some tights look like FF but can be easily spotted as the detail up the back of the calves is missing on the tights. These are the easy cases, one has to look elsewhere for telltale details such as suspender bumps at the back of the skirt. These too are not easy to spot but if the lighting conditions and skirt/dress material combination is right then, very easy. It is sometimes possible to observe the body language and see if the wearer is very conscious of what they're wearing. This too can be a giveaway.
"On some occasions one can get a flash of stocking tops too. There are some types of stockings that have a very nice finish on them so this can be a sign. It isn't just whether stockings can be detected but does the wearer give off signals that they might have them on. This would then prompt further investigation. These techniques work better when one is dealing with a new wearer as they won't have very much skill and experience and so will be more of a giveaway."
"It's difficult to measure the accuracy of my technique because a Southern Gentleman never asks – except the lady he's escorting. FF's are extremely rare in the South, except for formal occasions around the holidays. However, I've developed a technique that has proven surprisingly accurate. After looking at a lady's legs, I have a four-step search.
Step one: I seek out women dressed classically elegant who display an air of confidence.
Step two: I search for elegant but understated accessories such as pearls, gloves, etc. (Confirm about 33%.)
Step three: I listen for the telltale 'swish'! (Confirm about 75%.)
Step four: Visual confirmation of a stocking top, or garter button showing through a dress.
"There is one unique telltale sign that's a dead give away for picking out a real pair of fitted stockings. I'm not talking stretch stockings I'm talking 100% flat knit real nylon stockings. To those of you out there that are real stocking wearers try this test. You need a sunny day for this experiment. Cross your legs in a knee length skirt or dress. (I'm assuming this test to be carried out by the ladies and for the fellas to log the data. If it's not then that's okay also – whatever floats your boat is okay by me!) Raise the hem to expose the knee. Look at the image formed by the nylon on top of the knee cap. The image revealed will be a six or sometimes an eight pointed star. There is a centre diffraction or dot and a small sparkling ring with spikes pointing from it easily seen on the kneecap. Any astronomers here? Ah, Orion is born on pretty knees covered with sparkling flat knit stockings! Now that's a real celestial body! It's the glassine effect of the taught material. You won't see it in mesh nor stretch nor silk!
"Now the obvious give away is to see a pretty lady in sandals and stockings with RH&T or to catch a glimpse of stocking top or hardware. That's for the rookies, no offence fellas! Remember though that years ago they made fitted nude heel and toe stockings, that was a real challenge! I don't think they do that today however. Those types were destined to run very quickly and would not wear long. Anyhow, real stockings have a shine to them! A real lady is going to keep you guessing by keeping you watching and that's the fun of it!"
"You are professionals aren't you? Spotting 100% nylon flat knit stockings has been my hobby for 5 years now . . . simply by the sheen. There is nothing else like it. My search still continues…"
"I've been around ladies in stockings for about 40 years. There were times say back in 1961 when the girls started wearing stockings in the fifth or sixth grade. I went to a Catholic school and the Nuns would get very angry when a girl came to school in stockings. Seams to beat all! The boys were on their way to learning about the magic and the girls were on their way to learning to tease. Dropping pencils became a regular class happening, by the boys that is! In the later grades the feisty girls were recognised by what colour stockings they wore. The beige and the skin tones were worn by the prim and proper girls, hands off here! The dark tans and off blacks were worn by the party girls. You knew you could have a good time with these girls! Get enough of the neighbours' stolen home made wine in these little foxes and anything was possible. I mean what was possible in 1963? I'm talking "Back To The Future" type fun! The black stockings, especially those with a few runs in them were worn by the real go getters! The "North Side" girls! They would flash you an eyeful of stocking tops in a heartbeat! Didn't need the neighbours' home made wine for them! Their motors were always revved up!
"All I know is all I've lived through. I've just got a few years of experience, that's all. I'm no pro, just a fun loving individual that is fortunate to be married to a real stocking princess. We have grown with and learned from each other. Stockings are a way of life and a real passion for those who understand their magic. I perhaps understand a bit more simply because I've been around for a while. You keep practising! It's plenty of fun and experience is a fine teacher."
"For me its not the actual tell tale signs, its down to the imagination, if you think an elegant looking lady is wearing stockings, then you discover she isn't, that's a real disappointment. In that instance you are better not guessing, until a sighting can definitely be confirmed."
"I can usually tell when the lady looks refined and is wearing well-chosen clothing, whether it be formal attire or business clothes – there is a sense of occasion and bearing. The legs are usually attractive and the material often has a slight sheen or refinement to it. "
"I usually spot stockings when in a group or a crowd, rather than walking or shopping, where no one is in the same place for too long, and I usually have a chance to get the odd glimpse as people are often sitting. It is usually a glimpse of stocking top – not many tights have this feature, and once I see even the slightest evidence of a welt or a stocking top, the chances are pretty high."
"A little more observation: as the lady moves around she will eventually reveal more, either a little glance when she crosses her legs and her skirt moves, or the merest sign of suspenders from the back as she leans over."
"I must admit it is not very often that I spot suspender buttons these days, usually just on airplanes, but maybe I go for the glimpse of stocking top first. These sightings usually occur in places where people sit – in pubs, bars, hotel lobbies. trains, buses, airports, planes and so on, although I even saw a lady in London W1 revealing stocking tops and I was in the top deck of a bus! She was running along beside the bus near the bus stop and her skirt rode up – don't see this very often!
"Stairs or escalators are probably the only other spots where one can get a glimpse of stocking top when following the ladies up – one I know swishes her skirt from side to side as she runs up the stairs at Finchley Road Underground station. I hate to admit this, but it always lights up my day when I make a sighting."
"This is only valid, of course, for 100% nylon stockings. No tights are made of 100% nylon anymore, so… In my case, the sheerness of the fabric is the first point of attraction, then, I try to see if the little creases produced around the ankles at every step go back to their place almost immediately or take a few seconds. If so, good sign. A 'less than perfect fit' is another good sign."
"Generally speaking, stockings are thinner than tights, and this is what I look in the first place. If there is some 'bagging', and the fabric is not Lycra, this is a definitive sign! And, yes, I have a good and trained eye!"
"A few years ago I was lucky enough to watch a woman become more adventurous in stockings. She was about mid-thirties, well built, say UK dress size 16-18 and always smartly dressed and made-up and had an 'erect' walk (deportment classes?). In the spring of the year in question she wore plain black or nearly black tights (or stockings) – as did most other professional ladies, and something about her made me think/hope she must wear stockings with a girdle.
"In the spring, she wore just below knee suits, skirts and dresses with a variety of beige, tan and coffee coloured hosiery all of which was slightly different in colour and appearance to those worn by her contemporaries. 'Stockings' I thought, although there were no RHT or suspender bump clues.
"By autumn, she would sometimes wear tan or coffee-coloured FF stockings and she started to wear a long cream raincoat with a split up the back which gave alluring glimpses of her seamed calves. The raincoat was uncharacteristically a bit tight around the hips and showed a pantyline of a tight corselette or bodyshaper.
"For the winter, she progressed to fairly thick (30 denier?) pale tan FF stockings which she often wore with calf or below knee boots so just a couple of inches of seamed calf peeked out through the split in the raincoat.
"Sadly, I haven't seen this lady for a couple of years."