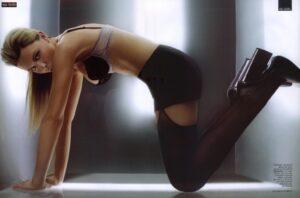 In summer 2006, the second cycle of Living TV's Britain's Next Top Model included Clancy as one of the thirteen finalists in the competition, competing over 10 weeks for a modelling contract. Clancy made it to the final runway show with fellow contestant Lianna Fowler, who went on to win. Although Clancy did not win, her career in modelling continued to blossom .
Since appearing on Britain's Next Top Model, Clancy has modelled for several magazines and newspapers. In May 2007, Clancy appeared on the front cover of Arena magazine, and modelled the Triumph Bonneville Motorbike in the Daily Mail newspaper. Clancy was chosen to appear in Sports Illustrated magazine in the 2010 swimsuit edition. Clancy was featured for her sporting connection to Peter Crouch and was photographed for the magazine wearing only body paint to make it appear as if she was wearing an England shirt.
Clancy appeared in a 2010 campaign for Umbro sportswear, modelling an England shirt, along with other footballer's wives and girlfriends from countries that have won the World Cup. Clancy walked in the Giles Deacon Ready-To-Wear line Giles Spring 2011 collection.
In March 2011 Clancy appeared on the Elite Model Management: New York division website. In July 2013, she appeared as part of London designer Hasan Hejazi's campaign, in a fashion editorial by Absynth Photographic and a fashion film by Gabriel Gettman. Clancy also graced the August 2011 cover of UK Esquire shot by photographer Sølve Sundsbø.
In December 2013 Clancy was featured in LOVE magazine's Advent Calendar next to fellow models such as Suki Waterhouse and Cara Delevingne.