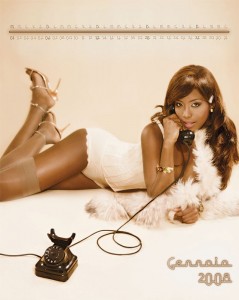 Ainett Stephens  is a Venezuelan television personality and model.
In 2000, she was among the 10 semi-finalists of the Miss Venezuela beauty contest and subsequently posed for a calendar, the benefits of which went to the people of the Amazon Rainforest. After beginning a career as an underwear model in South America, she arrived in Italy in 2004 and apart from continuing her career as a model there, she also enrolled for a degree course in communication sciences at the Università Cattolica del Sacro Cuore in Milan.
In 2005, she posed nude for the Fox Uomo magazine's calendar edition. In 2006, she further increased her popularity by starring in the television broadcast of Il Mercante in fiera (lit. The Merchant of the Fair), co-starring with Pino Insegno, and posing nude inControcampo magazine's calendar edition. She hosted 3 seasons (2005, 2006, 2007) of Real TV, the Italian version of Real TV, on Italia 1.
She also hosted the television quiz show Azzardo The Match with Daniel Bossari, and in 2008, hosted the third season of Tintoria on Rai Tre with Taiyo Yamanouchi. In the summer, she co-hosted the Circo Massimo Show with Stefano Nones Orfei.