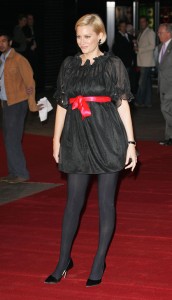 Alice Jane Evans (born 2 August 1968) is a United States-born British actress.
After graduation, she moved to Paris' Cours Florent. She gained work in French television, with her breakthrough role as French student Susan in the popular French sitcom, Elisa Top Modele, which ran for 18 months. Next, she went to Italy to play "Nathalie", in the 1998 Italian mini-series Le ragazze di Piazza di Spagna. Her first English-speaking role was in the Highlander episode 'Patient Number 7'. After making her first film,Monsieur Naphtali (1999), Oscar-winning director Claude Lelouch cast Evans as Macha in Une pour toutes (1999), alongside Sami Naceri and Anne Parillaud.
In 1999, Disney cast Evans alongside Glenn Close, Gérard Depardieu and her future husband, Ioan Gruffudd, in 102 Dalmatians. Her mother died at age 59, the day before Evans's final screen test for the role, which introduced her to British viewers.
After appearing in Blackball, she moved to Los Angeles in 2003. She has since appeared in both television and film, such as The Mentalist, Brothers & Sisters, Lost, Grimm, and a turn as the villainous Esther on The Vampire Diaries and The Originals.