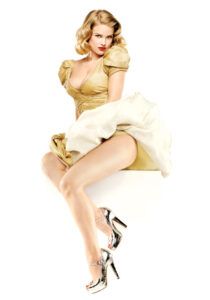 Alice Sophia Eve (born 6 February 1982) is an English actress best known for her roles in the films Starter for 10 (2006), Crossing Over (2009), She's Out of My League (2010), Sex and the City 2 (2010), The Raven (2012), Men in Black 3 (2012) and Star Trek Into Darkness (2013).
Eve has appeared in television dramas such as the BBC's The Rotters' Club, Agatha Christie's Poirot and Hawking and starred in the film Stage Beauty (2004).
Eve at the premiere of The Raven in April 2012
In 2006, she starred in two comedy films: Starter for 10 and Big Nothing (in which she and co-star Simon Pegg put on American accents). She spent the early part of 2006 in Indiaworking on a drama mini-series Losing Gemma about backpackers.
On the stage, Eve has appeared in two plays directed by Trevor Nunn. In 2006, she played the young Esme in the new Tom Stoppard play Rock 'n' Roll, at the Royal Court Theatre, later reprising her role for the 2007 Broadway transfer. For this performance, she was nominated for the best supporting actress award at the Whatsonstage.com Theatregoers' Choice Awards. In 2009, she played Roxane in a production of Cyrano de Bergerac at the Chichester Festival Theatre.
In 2010, Eve played the female lead role in the American romantic comedy film She's Out of My League, in which her parents play the roles of her character's parents. She also played the role of Erin, Charlotte's Irish nanny, in Sex and the City 2. During 2011, Eve had a recurring guest role in season 8 of the HBO series Entourage, as Sophia, a journalist and love interest to Vincent Chase. She played the role of Dr. Carol Marcus in Star Trek Into Darkness, released 17 May 2013.
Eve took part in the opening session of the 2013 Consumer Electronics Show. She also appeared in Paul McCartney's music video "Queenie Eye". In 2013 she filmed Before We Go in New York with Chris Evans who is also directing it.