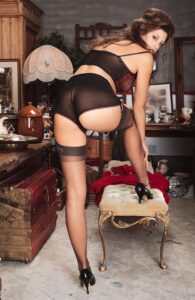 I am a 24/m in the US and my soon-to-be-wife is 22. She wears all sorts of hosiery quite often. The reason I am writing is so that I can indicate to all of you that there are young women who wear stockings, I can personally assure you that there are 10 women in the eastern US (who I am friends with through my fiance) who wear stay ups, stockings, or FFs at least once a week… With most wearing them three times a week.
Why do I bring this up? Who cares? You may be asking…
Well, for all of you that say nylon is dead… it's not dead. It's living under long skirts, pants, and in the bedroom. All of my fiance's friends who wear sexy stockings are very self-conscious about wearing their stockings out in public… or if they do, they conceal them greatly. I asked many of her friends why in the heck would you want to wear stockings under dress pants or a long skirt, when pantyhose or knee highs would suffice? The answer from every one of them and I quote "they make me feel sexy". When I then confront them and ask why they wouldn't want to show them off or reveal them… I get the ever so familiar responses "I don't want to be viewed as a whore", "I won't fit in" etc.
Of my fiance's friends only two (and my fiance) wear FFs. These being the most identifiable stockings by far, both of the girls will only wear these in the bedroom or within the house. Both have never set foot outside with FFs on for fear of being ridiculed. The others don't wear FFs, but do wear stay ups or sheer stockings with garters. However, all of them (even when going outside of the house) love the way they feel when they have them on, but fear of the social ramifications of wearing the sexy garments. So, the desire to be sexy is there, but society doesn't allow it to bloom. I see all the posts about a sighting here and a sighting there… but do you realise you may have to only travel a block to get a sighting? You'll never actually see the sighting, but it's there… it's hiding beneath pants, long dresses, whatever. I have never seen anyone but my fiance in stockings, however, it's great to have discussions with her friends about their stocking adventures and views because I get to see how the young women do still interest themselves in nylon and feeling sexy. Don't discount today's young women-they do more than you think regarding nylons.
– Great news! I'm a bit older than you, also from the US, but have similar experience with my past girlfriends – four out of four since 1985 have worn stockings at home and sometimes inconspicuously in public, although I must admit that I was generally the stocking supplier. But what it amounts to is that lots of us guys are lucky to have a woman who does appreciate nylons, even though we may not be able to see them on other women in public much. It is true that sightings are rare, but maybe they are the tip of the iceberg. I'd love to hear anything more that your fiance or her friends have to say on the subject.
– I live in Uruguay, South America, and here most women wear hosiery with skirts or under jeans. They seem to be using it a lot, for both work and casual wear with high heels. There is the occasional stocking sighting, however so far these have only been hold-ups. I work in a district where there are a lot of banks, so every day there are plenty of beautiful women's legs covered in nylon to see.
Being originally from Norway, I was surprised to discover that Uruguayan and Argentinean women wear a lot of hosiery and above all with jeans. So don't despair. You are just in the wrong location!
– My personal experience with stockings very much mirrors you description of comments from your friends – even though I have a son your age.
I am very shy, and even commenting blindly on this forum required lots of encouragement from my husband. I remove my garterbelt and stockings before going to the health club where I work out.
When I wear stockings to work, they are concealed under professional attire, which is usually dark to hide garter buttons. I wear a deep six-garter pull-on belts to hold my stockings securely. However, I mostly wear pantyhose for work because of my fear of ridicule.
Stockings make me feel confident and sexy. I feel more "dressed" when I wear stockings and fine lingerie. But women less concerned with their femininity are very quick to attack women for the slightest faux pas.
The only time I relax wearing stockings is when I am out for an evening with my husband at an elegant destination, or dancing.
I suspect your comment that many stockings wearing ladies are "in the closet" is an astute observation.
– Please don't be shy or apologetic about wearing a garter belt and stockings. the only important thing is that you enjoy wearing them.
– My experience is that what you are saying is true. I usually ask a woman when I meet her (I am a single male of 54) whether she wears stockings or garter belts or even seams depending on how well I know her. It is very rare that I meet a woman that does not own a garter belt and stockings even if she does not wear them frequently.
I live in Miami where the Latin influence and the club and decadent influence is strong and I see women wearing FFs all the time if I go to clubs. I have even seen latinas wearing seamed stockings at the school that I teach at. I know they were stockings because as the teacher sitting in the front row, and the gals in their short skirts, I can see a better angle than another student. I have seen secretaries in the county agency where I also have a job wearing seamed stockings as they marched into their offices.
I had a younger woman friend, not a girl friend but a pal, who I hung out with a lot when neither of us had a date. We would go out to a movie or to hear music or whatever. She is a very respectable Federal Reserve official, an Ivy League yuppie with a lot of power over banks. One time she was getting out of her car and dropped something and was wearing a short skirt and when she bent over I could see her stocking tops. She confessed that she wore garter belts and stockings only and never pantyhose. When I told her about my interests, she made sure to wear seamed stockings and a skirt short enough to show some garter belt when we went to a musical performance the next weekend.
I think we really need to be open about it. I think we should stand by our principles. Pantyhose and unseamed stockings should be made legal only when they were required for medical reasons! Only half joking.
– I'm 19 and my girlfriend is 17 (turns 18 next month). I've been with her for over three years now, and slowly I have managed to convince her to try stockings. She wears them maybe three days a week now, and says she likes them a lot more than tights and hold-ups. Like other Australians in this group, I can't figure out why women from .au insist on calling tights stockings. Very odd… But I digress.
I've found that stockings are quite hard to find in Australia. Department stores don't seem to stock them much, and when they do they are prohibitively expensive, as are online retailers due to the current value of the $au. The great thing is that recently I've found a shop nearby where I live (Leichhardt), that sells stockings and garter belts – quite cheaply too (a "factory shop"). The interesting thing about this shop is that the attitude of the salespeople is as if every woman still wears stockings, and it's the most normal thing in the world (which I hope it will be again one day, and I'm sure you echo my sentiments).