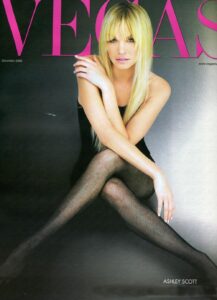 Ashley Scott is an American actress and model. She was born on July 13, 1977 in Metairie, Louisiana, but raised in Charleston, South Carolina. She began her modeling career as a young girl and was a 1993 Elite Model Look finalist. Scott became a model for Elite Miami. She modeled internationally in fashion shows in Miami, Paris and London.
Scott has appeared on the cover of the Hollywood Reporter and other publications such as US Weekly, Salon, and Cosmo Girl. Her first screen credit was as Gigolo Jane in the feature film A.I. Artificial Intelligence (2001). In 2001, Scott was cast as series regular Asha Barlow on Fox science fiction series Dark Angel. In 2002, Scott was cast as Helena Kyle/The Huntress on The WB television drama series Birds of Prey.
Scott had supporting roles in number of films, including Walking Tall (2004), Into the Blue (2005), The Kingdom (2007), Strange Wilderness (2008), and 12 Rounds (2009). Scott starred as series regular on CBS series Jericho as Emily Sullivan. She later guest-starred in several shows, including CSI: Miami, and NCIS. She voiced Maria in the 2013 video game The Last of Us.
Scott starred in a number of made for television movies in recent years, primarily for the Lifetime network, including The Perfect Boyfriend, Summoned, and The Nightmare Nanny (2013). She was cast as series regular Mary in the Lifetime comedy-drama series, UnREAL, opposite Shiri Appleby and Constance Zimmer. The series premiered on June 2015. UnREAL was acclaimed by critics as the best summer TV drama.
Scott resides in Los Angeles, California, and is married to Steve Hart, lead singer of the band, "Worlds Apart". They are parents of two girls.
In the attached photo Ashley is portrayed in the famous Bardot Pose.