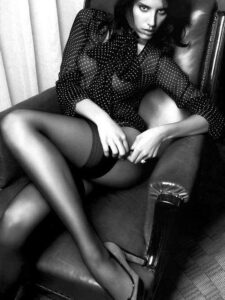 I've been lurking here for a while and share the common interest – I too love stockings, stocking-spotting and, like many of you, have always dreamed of meeting a woman who loves stockings as much as I do. Well, believe it or not, I've actually found one and thought you might appreciate me sharing the story with you (and yes, I am showing off a bit as I'm very proud of her. 🙂
We actually met across the Internet, through a common interest in dance music. I live in the UK (south-west), she lives in America (LA area) and we met quite by chance on a mailing list. We started chatting in e-mail, then by 'phone and eventually there was nothing else to do but jump on a 'plane and go over to meet her in person.
We got on really well straight away and I extended my trip so that we could get to know each-other better. My only slight reservation was that, like most Californians, she dressed very casually and often wore trousers but she had mentioned that she enjoyed dressing up to go out and liked wearing skirts and dresses. So one day I plucked up the courage and, as casually as I could muster, asked if she ever wore stockings. I half expected the sort of reply I'd probably have got from a British girl but instead she told me that she'd tried hold-ups once or twice, hated pantyhose, and had always wanted to try real stockings but, living in that hot climate and with the dress code over there, had never actually done so.
The men here can well imagine how difficult I found it to suppress a grin that a cheshire cat would have been proud of but I maintained my composure and, trying hard not to seem too eager, told her that I loved them and would be quite happy to encourage her if she felt like trying them. She said yes, she would like to, so I grabbed my credit card and said "come on then, there's no time like the present, I'll treat you" and off we went to Victoria's Secret at the local shopping mall.
It was obvious that what they sold was mainly "bedroom wear" but we found a half-decent garter belt (well, we were in America, asking for suspenders would have got something quite different!) and some black stockings and returned to her apartment.
She went off to the bedroom to try them on and returned about 10 minutes later with her legs encased in black nylon and wearing a loose, above the knee, black dress. She looked fantastic! "Come on then, give me a twirl", I said, and she spun around, the hem of her dress spinning out and up to reveal those lovely black stocking tops, her tanned thighs above, and of course the sexy black garter straps! "Well, what do you think? " I asked, although the smile on her face almost matched mine and told me all I needed to know – "I love them!" she beamed. "They feel so glamorous and sexy!" And she actually thanked me for buying them for her! (I'm not sure which of us was more pleased. 🙂
We decided that since she looked so good, we should go out for supper, so we walked down the road to the local pizza restaurant, me enjoying the hem of her skirt occasionally flicking up to show a glimpse of black stocking top and her not quite understanding why the cars and trucks seemed to be slowing down as they drove past us! 🙂 Needless to say I thoroughly enjoyed stroking her legs under the table in the restaurant, I thought she might feel self-conscious and uncomfortable about wearing them but no, she loved them and was completely converted.
I kept thinking this must be too good to be true and that she'd get bored with them or find them too hot or uncomfortable but she explained that she had always loved the look and wished she could wear them but didn't have the confidence in herself to try them and, because so few women wear any kind of hosiery in California, felt sure that she'd be ridiculed for it. Obviously I made it very clear to her that this was something she should do for herself and that if other people didn't like it that was their problem. I also told her in no uncertain terms how much I loved her wearing them and how wonderful she looked in them and thankfully she now has the confidence to wear them whenever it's appropriate (and sometimes when it isn't! 😉 )
She had a wonderful time when she came over to England and found that not only could she buy good quality stockings quite easily and cheaply, but that she didn't feel as if she stood out when wearing them. We Brits are also a lot less PC than Americans so she's much more aware of being looked at over here and seems to enjoy occasionally flashing them, quite discreetly of course, which again I encourage as I enjoy it too and feel so proud that she's with me.
One birthday I bought and sent her over a packet of fully fashioned seamed nylons and she was ecstatic about them and delights in wearing them whenever we go out anywhere vaguely special. They're not cheap but it's my pleasure to keep her supplied with them as she looks, and feels, stunning in them.
Alas we still live on different continents and get precious little time together but she continues to wear stockings three-four days a week and tells me about the odd occasions when she gets caught accidentally showing a bit more than she should and we have a good laugh about it. She has confirmed how women feel much more confident and powerful when wearing them and they certainly seem to have boosted her confidence no end so, even aside from the great pleasure they give us both, they have actually changed her as a person.
So fellas, don't give up; there are women out there who love stockings as much as we do and there's hope for all of us that we might meet one. I know they're in the minority and not easy to find and I'm sorry, you're not having mine, but keep looking and, as I think has been said here before, try not to appear too eager – I'm sure the fact that I seemed so calm about it made it less threatening for her and encouraged her more than if I'd applied any pressure or persuasion. Put it this way, when I eventually told her how much of a fetish I have for stockings and suspenders she was astonished, she had genuinely thought I had bought them and encouraged her purely for her benefit! (Partially true of course, but not entirely… :-))
– What a wonderful experience for you both, I wish you both the lord's blessing and hope your relationship continues to bloom. It sounds like you are off to a good start, so keep encouraging her. It's obviously working and helping increase her confidence.
– I'm in England too and just got back from the west coast, where my lady love also loves wearing stockings. She says they make her feel incredibly sexy, like they are making love to her legs (she hates pantyhose too and has always tried to find an alternative).
She bought her first suspender/garter belt, a delicate white one, herself, when she heard I liked stockings (I also like fountain pens), and then two more, pink and white with sheer panels from La Senza, when she realised how much she liked the feel of wearing sheer stockings.
This trip, she has acquired three more from me, one mint green aubade, again with sheer panels, one beautiful white Italian one and one beige one from Canada, plus a selection of new and vintage stockings of various kinds, some sparkly, some sheer, some Hanes, some bone coloured, some taupe, some grey, etc. All very tasteful and what a sophisticated lady would wear. She loves to wear them out and she likes the fact that only she and I really know about it – our secret.
Along with gifts of pink pearls and perfume, she says she can now feel surrounded by me when I am not there (now that is a nice thought), even if she is just watching TV!
So don't give up hope out there – I figure the number of women wearing real stockings may be no more than 5% to 7% but I'm sure that must be more than it has been for some time.
– Thanks for the feedback, I showed my girlfriend what I was going to send before uploading it (she approved) so she'll be very interested to hear what you have to say. I may even persuade her to join in here but she's very cautious about giving much away about herself on the 'net, which is why I had to be so vague about details.
Her favourite ordinary stockings are the ones John Lewis sells – 75 pence a pair (just over a dollar) for 15 denier stretchy stockings with no Lycra (which she hates) and I sent her out a package of them recently, along with a pair of FF nylons from Gio. Unfortunately she had to go to a funeral last week but to make herself feel a bit better I suggested she wore them and I'm sure she looked delightful.
Now that I have "uncloaked" (damn, been watching too much star trek! 🙂 ) I'll write up some of our amusing experiences with stockings. She enjoys both wearing them and my reaction to them so much that we often have a bit of fun with them when we're out and about and the fellas who are observant enough to notice seem to enjoy it too.
– You are so lucky, now you and your girlfriend are so happy. You did it right, encouraging, not threatening her, being calm, telling her how great she looked. Does she worry like many other women, including some on this forum, about the garter bumps showing? I think that is nice, if they are showing, like a visible panty or bra line.
I think any woman that has the confidence to wear seams, fishnets, and yes, the most sophisticated of all, the Rolls Royce of stockings, the fully fashioned seams with the cuban heals, is really a remarkable lady.