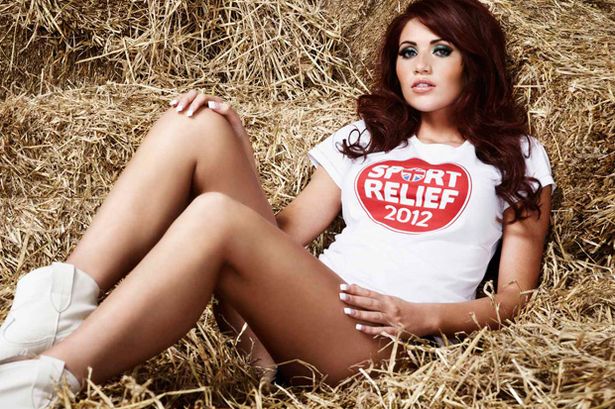 Amy Andrea Childs (born 7 June 1990) is an English television personality, model, businesswoman and fashion designer. Childs rose to fame after appearing in the first two series of the ITV2 series The Only Way Is Essex. She had her own reality television programme It's All About Amy from 2011 to 2012. Childs came in fourth place in the Channel 5 show Celebrity Big Brother 8 in 2011. In 2014, she participated in the Channel 4 show The Jump.
Childs was born in Barking, but relocated to Brentwood, Essex. She attended Raphael Independent School where she was appointed head girl. She left the school with four GCSE qualifications.
Childs became well known in 2010 while appearing in the ITV2 semi-reality programme The Only Way Is Essex. She later signed to Can Associates management agency, the same agency that represented Jordan, Amy's heroine: "Jordan is definitely my idol. Her looks, her career, her businesses – she's fantastic." Childs  puts her name to a ghost-written column for New! magazine and presents a regular fashion segment on ITV1's This Morning. She has also posed for the fashion magazine Vogue and attended the 2011 ceremony of the British Academy Television Awards, at which The Only Way is Essex received an award. The Sun revealed a list of the richest The Only way is Essex stars current and previous with Amy holding the top spot with £1.5 million followed by Mark Wright.
In July 2011, Childs was named Personality of the Year at the National Reality TV Awards. On 18 August 2011, she began taking part in Celebrity Big Brother where she finished fourth in the show on Channel 5. Amy and Jedward filmed an advertisement for Celebrity Big Brother 2012, which first aired on 16 December 2011.
A fly-on-the-wall reality show It's All About Amy débuted on Channel 5 on 1 December 2011. The show involves Childs, her family, and her friends taking part in Amy's business investments. The show was not recommissioned after the first series.
Childs competed in an episode of Let's Dance for Sport Relief with her cousin and fellow TOWIE star Harry Derbidge in February 2012. Amy also participated in a celebrity special of The Bank Job on Channel 4 in March 2012.
In 2011 her estimated earnings were £2.75 million ($4.4 million).