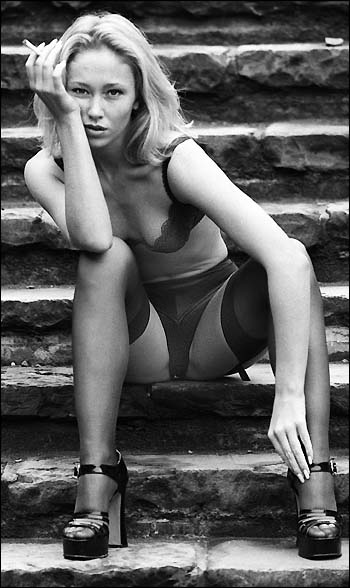 Jennifer "Jenny" Frost (born 22 February 1978) is an English former singer, television presenter and model. She was a member of girl group Precious before replacing Kerry Katona in the chart-topping band Atomic Kitten from 2001 until they split in 2004. Frost returned with the group in 2005, 2006, and 2008 for one-off appearances but chose not to return when the group were invited to appear on ITV2's The Big Reunion in 2012. Original member Katona was asked to come back, and she agreed. Frost presented makeunder show Snog Marry Avoid? from 2008 to 2011. In 2011 she co-presented OK! TV alongside Jeff Brazier.
Frost was born in Wallasey, Merseyside. and grew up in Manchester. She loved music from an early age. Her earliest concert experience was when her father took her to a Level 42 concert at the age of nine. Sport and dancing were Frost's favourite activities, however, modelling was her dream. After attending St Monica's High School she started to work for the BBC Television doing the Holiday programme and travelling around the world.
Frost started her musical career in 1998 in the group Precious, who were the UK entry at the Eurovision Song Contest 1999, with the song "Say It Again". The song was a top 10 hit in the UK Singles Chart and came twelfth in the contest itself. Subsequent releases by Precious enjoyed only modest success, and their debut album failed to chart at all, ultimately leading the group to go their separate ways in 2001. Frost moved on by replacing Kerry Katona in Atomic Kitten, a girl group founded by OMD frontman Andy McCluskey, in 2001. After the release of their third studio album, Atomic Kitten split in 2004 although reformed a year later in 2005 and again in 2008. On 4 March 2012 it was confirmed that Atomic Kitten would reform but was later confirmed that Frost would not be returning to the group and would be replaced by Kerry Katona. Hamilton has since confirmed that Frost would be welcomed back if she wanted to rejoin the group in the future.