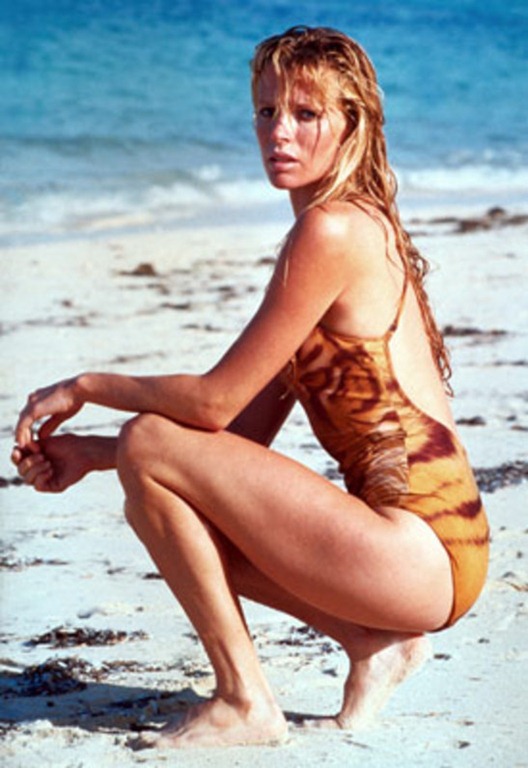 Kimila Ann Basinger (born December 8, 1953) is an American actress, singer and former fashion model. Following a successful modeling career in New York during the 1970s, Basinger moved to Los Angeles where she began her acting career on television in 1976. She starred in several made-for-television films, including a remake of From Here to Eternity (1979), before making her feature debut in the drama Hard Country (1981).
Hailed as a sex symbol of the 1980s and 1990s, Basinger came to prominence for her performance of Bond girl Domino Petachi in Never Say Never Again (1983). She subsequently garnered acclaim and a Golden Globe Award nomination for her role in The Natural (1984). She starred in the cult erotic film 9½ Weeks (1986), and in Tim Burton's blockbuster Batman (1989), which remains the highest-grossing film of her career. For her femme fatale portrayal in L.A. Confidential (1997), Basinger won the Golden Globe and the Academy Award for Best Supporting Actress. Her other films include Blind Date (1987), Prêt-à-Porter (1994), I Dreamed of Africa (2000), 8 Mile (2002), Cellular (2004), Grudge Match (2013) and Fifty Shades Darker (2017).
Basinger was born in Athens, Georgia, on December 8, 1953. Her mother, Ann Lee (née Cordell; 1925–2017), was a model, actress and swimmer who appeared in several Esther Williams films. Her father, Donald Wade Basinger (1923–2016), was a big band musician and loan manager; as a U.S. Army soldier, he landed in Normandy on D-Day. The third of five children, she has two brothers, James Michael "Mick" and Skip, and two sisters, Ashley and Barbara. Basinger's ancestry includes English, German, Swedish, and Scots-Irish. She was raised a Methodist. Basinger has described herself as extremely shy, which had a major effect on her during her childhood and young adulthood. She has said that her shyness was so extreme that she would faint if asked to speak in class.
Basinger studied ballet from about age three to her mid-teens. By her mid-teens, she grew in confidence and successfully auditioned for the school cheerleading team. At 17, she entered the America's Junior Miss Scholarship Pageant, won at the city level and was crowned Athens Junior Miss. Although she lost in the state pageant to Sue Whitted, who competed as "Georgia's Junior Miss," her beauty was profiled in the national program. She had competed at the state level for the Breck Scholarship and was featured in an ad for Breck in a joint portrait with her mother.
Basinger was offered a modeling contract with the Ford Modeling Agency, but turned it down in favor of singing and acting, and enrolled at the University of Georgia. She soon reconsidered and went to New York to become a Ford model. Despite earning US$1,000 a day, Basinger never enjoyed modeling, saying: "It was very hard to go from one booking to another and always have to deal with the way I looked. I couldn't stand it. I felt myself choking." Basinger has said that even as a model, when others relished looking in the mirror before appearing, she abhorred it and would avoid mirrors out of insecurity. Not long after her Ford deal, Basinger appeared on the cover of magazines. She appeared in hundreds of advertisements throughout the early 1970s, most notably as the Breck Shampoo girl. She alternated between modeling and attending acting classes at the Neighborhood Playhouse, as well as performing in Greenwich Village clubs as a singer.