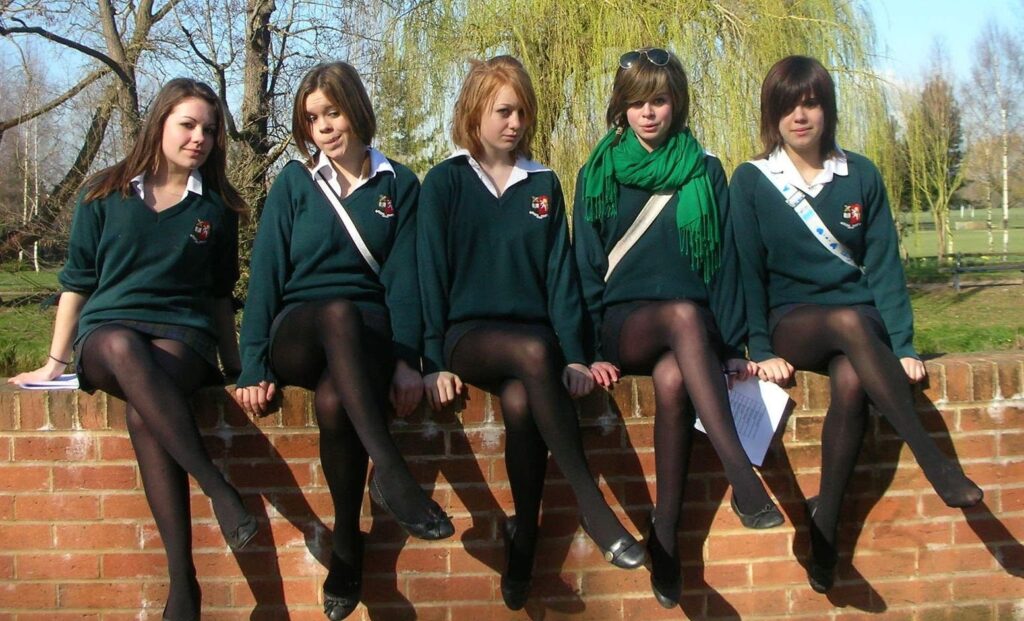 I was at secondary school from 1975 – 1980. During circa. 1978, I vividly remember the girls in the fourth/fifth forms consistently wearing stockings and suspenders. I guess it was a bit of a 'craze' as we were all aware of it and the girls often went to extraordinary lengths to let everyone know they were wearing them. Above and beyond simple 'flashing' of stocking tops via slit pencil skirts or the deliberate practice of hoisting to a selected audience, I remember other expedients being used such as the wearing of one white and one black stocking (fitting snugly with the rise at that time of neo-mods) and the wearing of fully-fashioned stockings (white and black).
I am truly not exaggerating when I say that at this time about 50% of the girls were teasing us with all this. There was clearly a class dynamic at work also as I remember that the above behaviour was almost exclusively reserved for the streams below A; which was largely populated by the children of the professional classes (the local grammar system having been scrapped in 1974). I have one of those long horizontal year photos in the loft and looking at it the other day, I was struck by the girls, 95% of whom were wearing black hosiery! I could pick out many (more than twenty) who I personally knew were wearing the correct undergarments on a regular basis.
I later went on to take my history degree at Durham University and a fellow female student did her third year dissertation on: 'The History of Underwear in 19th Century French Society'. We discussed my experiences but alas, she was unable to elucidate on her contemporaries due to a combination of factors.
Does anyone else have similar experiences of their school days? Was my school unique or (forties and fifties schoolgirls in straw boaters notwithstanding) was this a common phenomenon?
I can name the school and some protagonists if anyone has any direct interest, but at this stage, I can tell you that it is in Norwich, Norfolk, UK.