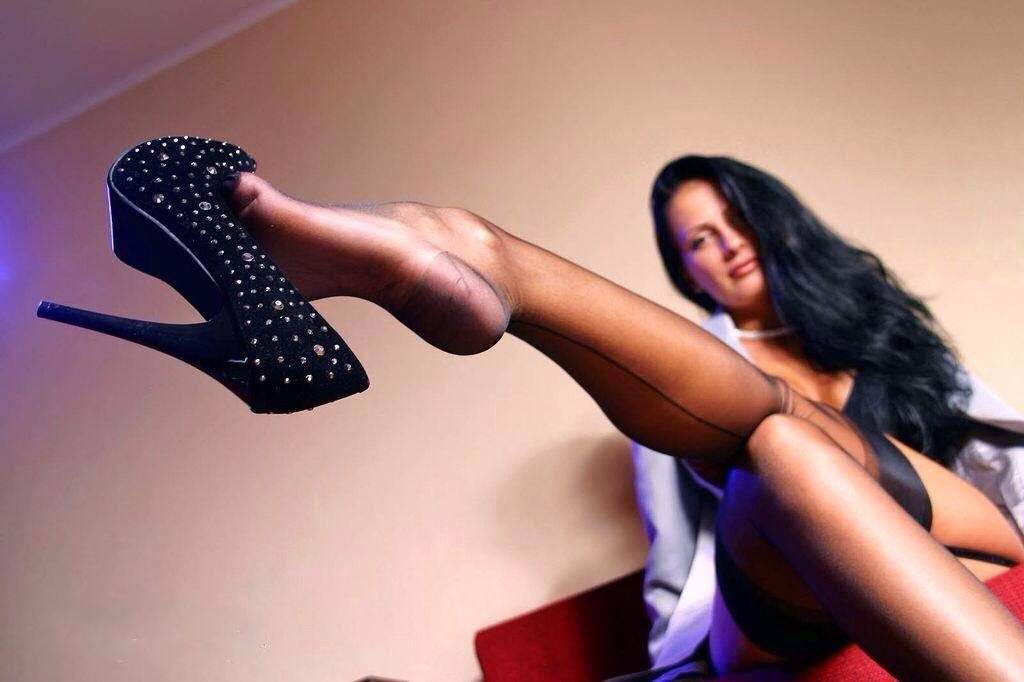 I was sixteen years old when I first discovered the thrill of seeing pretty legs in stockings. A friend of my foster mother's opened up this world of delight for me.
Her name was Marie Claire, she was 34 years old and she was Quebecoise; a lovely, warm, hauntingly pretty woman who spoke English with an intoxicating French accent that made my heart go pittipat. Long legged, slender, and with big brown eyes that sparkled as she called me cherie, she was in mine, the most glamorous woman I'd ever seen.
Marie Claire never came to our house without being immaculately dressed. She never wore trousers or jeans. She always wore a dress or skirt. She had the loveliest legs and I guess she liked to show them. While her whole figure was a fine work of seductive curves and swells, her creamy smooth legs caught the eye of everyone who saw her I am sure. Often dressed in a soft summer dress that floated about her pretty knees and wearing the most delicate pairs of heels, she was breath-taking. She'd come into a room like an evening breeze, filling it with her feminine grace and the warm luscious scent of vanilla. She'd always kiss me twice on the cheeks in that Continental fashion and she'd hold my hands as she'd look me up and down. As I was a bit of a tomboy back then, invariably attired in a T-shirt and jeans and sneakers, she'd laugh and poke gentle, loving fun at me.
"Oh JenneeFUR," she'd sigh, pronouncing my name just like that. "You are such a pretty girl, you should wear dresses and be proud of your womanhood, not cover up like a baseball boy!"
I'd blush and look at my sneakers, which would just make her giggle harder, her laughter like tinkling wind chimes rippling in my heart. I was in love with her.
One day when she was visiting my Mom, she called me into the bathroom where she'd gone to fix her makeup. I stumbled in, an awkward gazelle, and there she was standing before the full length mirror turning this way and that, looking at herself from all angles. A part of me wanted to hold her perfectness, place my mouth on hers, taste her lips, breathe in her scent. But I didn't. I was too shy. I was too scared.
"I bought a new pair of stockings today cherie," she said to me as she turned to smile. "Would you like to see zem?"
I nodded, expecting her to take them from her purse or a shopping bag. Instead, she sat on the edge of our bath tub and slowly pulled up her black French linen skirt. I stared open mouthed as it rose revealing more and more of her long, beautiful legs. She stopped for modesty's sake, at her hips, but I'd seen everything I could have dreamed of seeing that day. Silky black stockings hugging her leggy curves and ending in a swirl of intricate lace around her perfectly shaped white thighs. She let her hands caress herself, stroking her calves and knees. She softed herself, gently fingering the lace tops of her stockings.
"Well Jenneefur…you like, yes?"
I was speechless. All I could do was nod dumbly, as a private part of me misted. She clapped her hands together in total glee – smack – and I came back to earth from whatever stocking heaven I'd be floating in…
"One day my pretty girl," she sing-sighed. "we will have to put you in stockings too, no? I mean a woman is not a woman in pantyhose, she is only a femme des reves in stockings and a garter…the kind that makes a fluttering of hearts." With that she stood up, straightened her skirt and walked away, humming happily, so confident in her spectacular femininity.
I stood there for a few moments then reached over and turned out the bathroom light. I walked towards my bedroom where I lay down on my bed and closed my eyes. All I could hear was the tinkling of wind chimes from somewhere far away. Slowly I began to see what I wanted to see…the image of black silk stockings against the gleaming white porcelain of our bathtub. Marie Claire…
I unbuttoned my jeans and decided to go take a bath. Then maybe later I thought, I'll put on a dress and some heels.