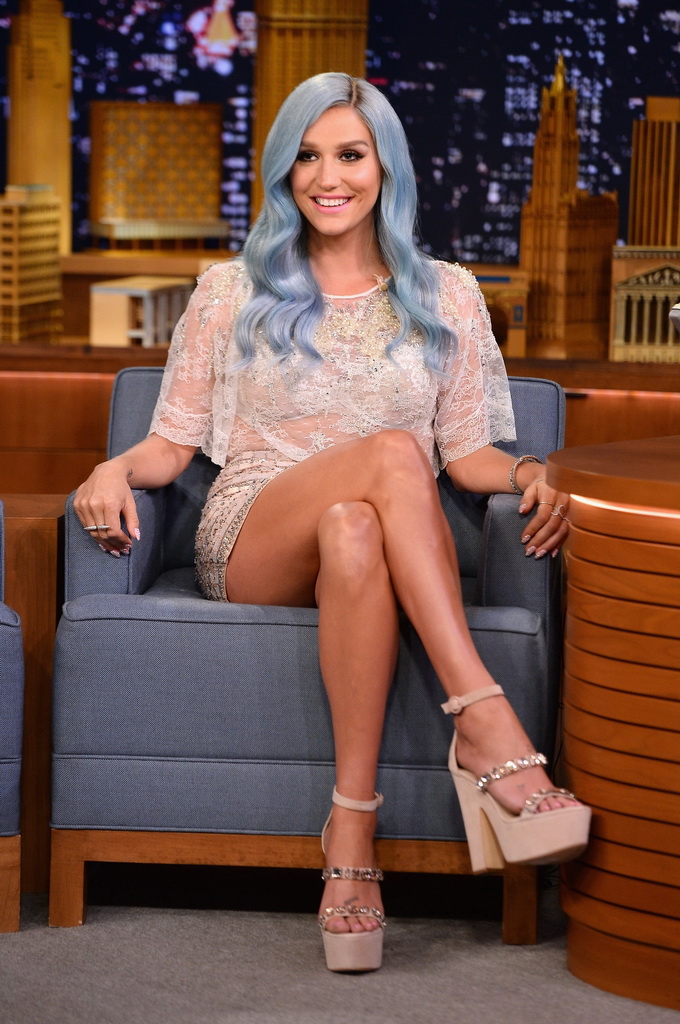 Kesha Rose Sebert is an American singer, songwriter, rapper, and actress. In 2005, at age 18, Kesha was signed to Kemosabe Records. Her first major success came in early 2009 after she was featured on American rapper Flo Rida's number-one single "Right Round".
Kesha's music and image propelled her to immediate success. She has earned earned two number-one albums on the US Billboard 200 with Animal (2010) and Rainbow (2017), and the number-six record Warrior (2012). She has attained ten top-ten singles on the US Billboard Hot 100, including "Blah Blah Blah", "Your Love Is My Drug", "Take It Off", "Blow", "Die Young", "My First Kiss" with 3OH!3, and the chart-topping "Tik Tok", "We R Who We R", "Right Round" with Flo Rida, and "Timber" with Pitbull. "Tik Tok", at one point, was the best-selling digital single in history, selling over 16.5 million units internationally. She has written songs for other artists, including "Till the World Ends" for Britney Spears.
Kesha's career was halted between Warrior and Rainbow due to a legal dispute with her former producer Dr. Luke, which has been ongoing since 2014. A series of lawsuits, known collectively as Kesha v. Dr. Luke, were exchanged between the two parties in which Kesha accused him of physical, sexual, and emotional abuse and employment discrimination against her, while Dr. Luke claims breach of contract and defamation by Kesha. Kesha has received several awards and nominations, including her win for the MTV Europe Music Award for Best New Act in 2010. As of November 2013, she has reportedly sold over 59 million records in the United States and 76 million records worldwide.
Kesha was born in Los Angeles, California. Her mother, Rosemary Patricia "Pebe" Sebert, is a singer-songwriter who co-wrote the 1978 single "Old Flames Can't Hold a Candle to You" with Hugh Moffatt for Joe Sun, made popular by country music artist Dolly Parton on her 1980 album Dolly, Dolly, Dolly. Pebe, a single mother, struggled financially while supporting herself, Kesha, and Kesha's older brother Lagan; they relied on welfare payments and food stamps to get by. When Kesha was an infant, Pebe would often have to look after her onstage while performing. Kesha says she has no knowledge of her father's identity. However, a man named Bob Chamberlain who called himself her father approached Star in 2011 with pictures and letters, claiming them as proof that they had been in regular contact as father and daughter before she turned 19. Her mother is of German and Hungarian (from Szentes) descent. One of Kesha's great-grandfathers was Polish.
Pebe moved the family to Nashville, Tennessee in 1991 after securing a new publishing deal for her songwriting. Pebe frequently brought Kesha and her brothers along to recording studios and encouraged Kesha to sing when she noticed Kesha's vocal talent. Kesha attended Franklin High School and Brentwood High School, but claimed that she did not fit in, explaining that her unconventional style (such as homemade purple velvet pants and purple hair) did not endear her to other students. She played the trumpet and later the saxophone in the marching band in school, and described herself in an interview with NPR as being a diligent student. After attaining a near-perfect score on her SATs, she was accepted to Barnard College, an affiliate college of Columbia University, but instead chose to drop out after three months to pursue her music career.
In addition to taking songwriting classes, Kesha was also taught how to write songs by Pebe, and they would often write together when she returned home from high school. Kesha began recording demos, which Pebe would give to people she knew in the music business. Kesha was also in a band with Lagan. Kesha and Pebe co-wrote the song "Stephen" together when Kesha was 16. Kesha then tracked down David Gamson, a producer that she admired from Scritti Politti, who agreed to produce the song. She dropped out of school at 17, after being convinced by Dr. Luke and Max Martin to return to Los Angeles to pursue a music career, and earned her GED after. Around this time, Pebe answered an ad from the American reality TV series The Simple Life, looking for an "eccentric" family to host Paris Hilton and Nicole Richie. The episode featuring the Sebert family aired in 2005. Luke and Martin had received one of Kesha's demos from Samantha Cox, senior director of writer/publisher relations at Broadcast Music Incorporated, and were impressed. Two of the demos were described in a cover story for Billboard, the first "a gorgeously sung, self-penned country ballad" and the second "a gobsmackingly awful trip-hop track" where Kesha raps ad lib for a minute when she runs out of lyrics near the end. Dr. Luke stated in an interview for the story that it was the latter track that caught his attention, saying "when you're listening to 100 CDs, that kind of bravado and chutzpah stand out."