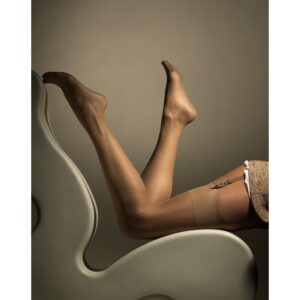 – I am a genuine nylon stocking fetishist. At 50 years old, I have been consumed with the sight, touch, and feel of sheer nylon stockings since childhood (about five years old). Recently divorced, I long to meet a woman who understands my fetish, and realise the power that she could have over me. I guess I'm saying that I long to be controlled by a woman with the intelligence and insight to use nylon stockings to her advantage. The ultimate would be to both wear sheer nylons or even very sheer pantyhose while making love.
The dilemma presented here is that fewer women are wearing sheer stockings or sheer pantyhose, much to my disappointment. Secondly, I think it is impossible for a woman to realise the unbelievable sensation and excitement I, as a male, get from sheer nylons. I can only hope to meet a woman who understands how powerful this fetish is – it will never go away – and know that she could use it to derive much enjoyment for herself.
What makes matters more complicated is that I am stuck on the sight of beautiful legs in high stiletto heels. I guess you could say I am the ultimate 'leg man'. I don't like escort services or fetish parlours because they cater to so many different desires, none of which they fully understand. Besides, I long for a more lasting relationship than that forum could provide. Women who don't exploit the power of nylons have no idea what they are missing. Not that all men could be controlled like I could, but most men at least enjoy this 'look'. Nothing is more disappointing to me than to see a beautiful woman dressed beautifully wearing high heels and bare legs.
How does someone like myself meet a woman with the beauty, understanding, and intelligence to recognise her potential power of using nylons and pleasure that she could derive? How does one express this desire without sounding weird or perverted. I know there is that special woman out there somewhere. I just haven't figured out how to find her.
– The best way is to find a lady that you connect with on a personal level, and meet her needs. Treat her like a lady. Do the things for her that make her feel good about your relationship.
After you have a loving, trusting relationship, share with her your needs and your desire for a relationship with a lady that displays her elegance. Buy her gifts of fine lingerie, and sheer stockings.
But, treat her like a lady. Be attentive to her needs. Providing for her needs will encourage her to provide for your needs. With so many ladies seeking relationships, you shouldn't have trouble if you remember she sees with her heart and brain what you see with your eyes.