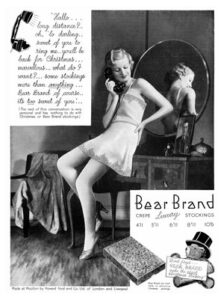 – These questions are for all the ladies – what is your favourite brand of stockings? Why are they your favourites? What brand do you find the silkiest? The sexiest? The most durable? Best fitting? I'd love to hear your thoughts on this.
– From a male perspective, sheer tanned, nearly black cuban-heeled FFs, and I have mentioned them before, Johnothan Aston wild rose and paisley black and whites with seams from the eighties.
– My favourite brand of stockings are Pretty Polly, mainly because I have always worn them. But I do like BHS hold ups.
– All time favourites have got to be Aristoc Harmony Points – vary rare Chocolate colour (I have three dozen pairs, all size 6) or Aristoc Tango RHT black (have 15 pairs of these). Modern style has got to be Chocolate point heel FFs from Gio.
– My favourite brand of stockings are the Fully Fashioned with point heel by Touchable. They are the softest silkiest feeling to me. I love them not only because of the soft silky feeling but also because of the fit being exactly the way I like it.
My husband likes them because of the seam, I think he thinks it looks sexy on me and makes my legs look thinner.
– My favourite brand of stockings has to be the Wal-mart brand. At $1.77 for two pairs, they are almost disposable. They come in black, charcoal, tan and mink and over the last five years I've been wearing them, they haven't increased in price.
Also they look good and feel nice, too. As for the best fitting, I would have to say the Wal-mart once again.
The silkiest and most durable pair I own, unfortunately, I cannot remember the brand name. I was in Canada a few years ago and while shopping at a mall all the stores had their clearance merchandise on tables and bins out front the stores in the mall. I found a few pairs of stockings for 25 cents each. The one pair I bought, was a mid-grey in colour and lace top. I've worn, washed and slept in these stockings several dozen times over the last six years and they still are flawless. I curse myself for not remembering the name.
The pair that makes me feel the sexiest are the black lace. These were popular in the mid-'80s. My b/f says they don't feel as nice a regular nylon but they look great. I've noticed that I've made a few heads turn when I wear these out. I have a few pairs in red and white as well.
– For everyday wear I find that you can't beat Debenhams own brand. They are very silky, durable and feel fantastic. Also on the value for money stakes they are absolute winners – normally about £1.80 a pair a few weeks ago they were selling 5 packs (10 stockings!) for £4.00. I virtually bought the store out!
– It used to be Aristoc Harmony or Tango but you can't get them now! Everyday wear it is Aristoc Ultra Shine or BHS own make or my Wolford Neons. I've had them at least 2/3 years and they are still going strong.
– My favourites are the National Wholesale #400 RHTs. At about $2.00 per pair, you can't beat the price… and they are quite sheer and durable as well.
– My favourites are my cinnamon coloured Pretty Polly hold ups.
– Contrast seamed skin toned Havanna heeled fully fashioned nylons are my fave on ladies at the moment, but tastes change frequently!
– Definitely natural/tanned/beige (whatever) RHTs, followed by same-toned FFs (Havana heel preferably).
– LaSenza's are very good. I haven't even thought of Wal-Mart. My favourite colour is navy, but I'm partial to stockings that come in black, white, flesh-tone, red, blue, yellow, ivory… think of a colour, I'm interested.
My favourite colours in descending order: black, grey, taupe, tan. White, or colours are "bubbling under".