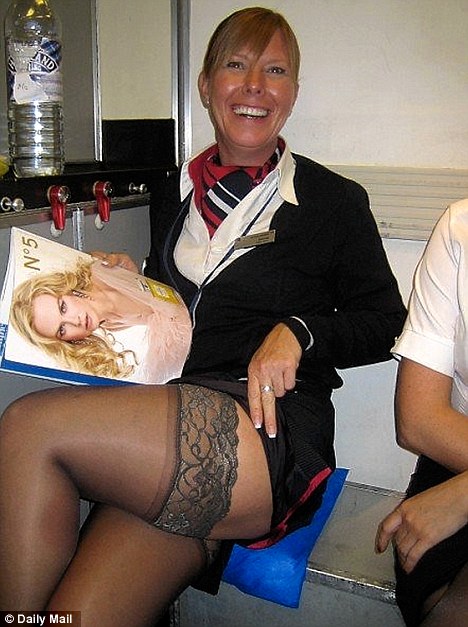 Let's start a poll of airlines where women have been spotted wearing stockings the most. The first two nominations are as follows:
1. British Airways – navy blue
2. Virgin – tan
"In addition, Qantas sells its own range of hosiery, as provided to the stewardesses and advertised in their in-flight magazines."
"I nominate British Midland. Their old uniform (grey skirt) had the potential to show any clips. I had an unconfirmed sighting on one of their shuttles from Edinburgh to Heathrow a few years ago. Also SAS – tan, and KLM – tan again."
"I spotted SAS and KLM both times when the flight attendants sat down for take off (I always take a seat in the front of the aircraft – Row 1 is usually best, but it depends on the type of plane)."
"I work at for BA at Heathrow and I can assure you that some of the girls do wear stockings. On a 747 crew of about 17 at least 2 will be wearing stockings. There is bad news on the horizon however , BA is due to change the uniform sometime in 2002 and in a recent survey conducted amongst the female staff both cabin crew and ground staff made it clear that they wanted to see trousers introduced as part of the uniform. I fully expect BA to agree to their wishes. This will be a very sad state of affairs for all leg lovers. It matters not whether they are stockings or tights either are far preferable than bloody trousers.
"I just got back from Amsterdam flying BA, but the girls at the checkout worked for Dutch airline KLM. Their uniform is one of the best I've seen – short skirts (unlike BA) & beautiful glossy tan stockings. I could hardly stop myself ogling them especially as they clambered over the luggage conveyor belt."
"Apart from Virgin, BA, KLM that have been mentioned, have any other stewardesses from other airlines been witnessed wearing stockings? My best guess would be Swissair because I flew with them to the far east years back and they wore very short skirts. The Italian looking and sounding stewardess looked like she had creases near the knee and ankle. Anyone like to shed any light?"
"When I was travelling back from Salzburg to UK late August last year, I remember it was a hot summer and the check in girls from Tyrolean Airways wore prim and proper red jackets, black shortish skirts and sheer black nylons. Surely, I thought, there's no way would they be wearing tights in this ungodly heat and soon enough I saw one check-in girl in the counter next to my flight's counter and saw the lacy tops as she had to stand up to put the passengers cases on the conveyer belt. Her skirt rose to show lacy stockings. I couldn't tell if they were held up by suspenders or not but I think they were."
"I actually did not notice what everyone says about Virgin girls wearing stockings and wonder whether this is in the imagination – last time with Virgin my female flight attendant did ask me 'coffee, tea or me?' however!"
"In about the late '80s, probably 1987 the Daily Express did a photoshoot of two BA stewardesses that revealed they wore stockings and suspenders and promptly showed them off. Does anyone recall the article or (a miracle) have the picture?"
"I remember this article as if it were yesterday! I recall that there was a picture but it didn't show anything. I also recall the girl being quoted as saying 'a lot of stewardesses wear stockings'.
"I remember a 'light news' item around 1981 concerning BA and one of their stewardesses. On a long-haul flight, the belt on one of the film projectors snapped and the said stewardess improvised a replacement with one of her stockings. So stories of this kind go back further than '87."
"I remember the British Midland stewardess who stripped for Club magazine. Her name is Michelle Bertinato. I had a copy of Club edition September 1999 and she is in and out of her uniform and wearing lacy hold ups. I wonder if that's standard for British Midland and if that was her standard uniform. As a result she either got fired or left."