I am trying hard to think of any female singer who wears hosiery, but finding it difficult: any suggestions?
– When I was little (very!) I remember the Human League and Carol Decker from T'Pau. I saw Cerys from Catatonia in big high heels once. Hose too I think. Roisin Murphy from Moloko is a big hose girl. Very nice legs. Who else? Shania Twain in the Feel Like A Woman video. Kylie quite regularly.
– Off the top of my head Christina Applegate, Melanie Appleby, Emma Bunton, Carol Decker, Barbara Dickson, Cher, Lesley Garrett, Geri Halliwell, Debbie Harry, Chrissie Hynde, Samantha Janus, Latoya Jackson, Courtney Love, Madonna, Martine McCutcheon, Kylie Minogue, Dannii Minogue, Linda Nolan, Sinead O'Connor, Dolly Parton, Shania Twain and Denise van Outen Have all worn stockings. There must be lots more too.
– Okay, here's a short list of not only singers but other female band members (more interesting to watch than the male singers, most of the time!)…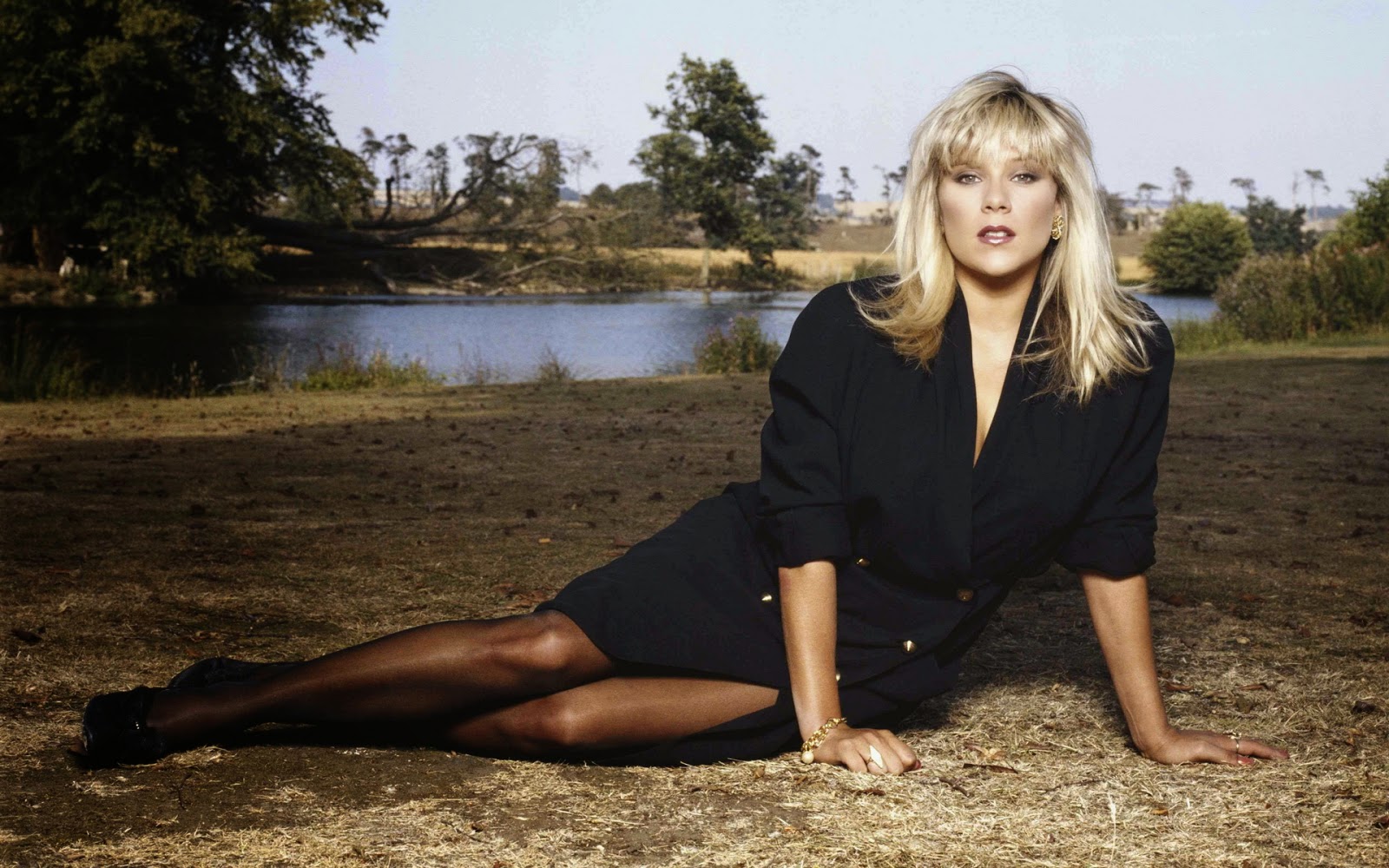 Samantha Fox wore stockings and a garter belt quite a bit in the '80s. Others (not mentioned above) who I know have worn stockings (ie not pantyhose) at least once in public or on TV or on their album covers include: the lead singer of Divinyls, Sarah Cracknell (St Etienne), Anne Magnusen (actress and singer of Bongwater), Barbara Manning, Lydia Lunch, Siouxsie Sioux (Siouxsie and the Banshees), Martha Wainwright, Stevie Nicks, Christina Vierra (sic? She had a single "You Can Float In My Boat" in 1988), some singer or bandmembers of the glam metal band Precious Metal, Fontaine Toups (Versus/Containe bassist and vocalist), Valerie Lemercier (French actress but she's put out music so she counts), some of the Bangles (check out "Hazy Shade Of Winter" and "In Your Room" videos)… Gasp I can't think of anyone else now.
Of the above people, the only current one is Sarah Cracknell who apparently wears stockings and suspenders in Paul van Dyk's The Riddle video (St Etienne remix). I've not seen the video, but in all other videos I've seen her in, she's sometimes worn short dresses with black tights, and when I saw her in person/concert, she always wore trousers…
In terms of females in music who wear hosiery (probably tights), there really are a lot. The list isn't as small as one may think. Offhand there are the GoGos (all five of them), the Bangles, Candida Doyle (Pulp keyboardist), Michelle Leon (Babes in Toyland bassist in early '90s – check her out in the video "1991: The Year The Punk Rock Broke"), Clare Grogan (Altered Images), Amelia Fletcher and Cathy Rogers (Heavenly), Cerys Matthews (Catatonia – check out her pothole pantyhose on a recent album cover), the female in Dandy Warhols who sometimes played gigs topless, Gillian Gilbert (New Order keyboardist), Tanya Donnelly (Belly/Throwing Muses vocalist), Frances Kelley (Vaselines), Kim Deal (Pixies/Breeders), Whigfield (check out her "Another Day" video – fab black pantyhosed leg shots!), Suzanne Rhatigan and Tracey Thorne… Of course there are loads others, these are the only ones I can think of offhand.
I think that Sarah Blackwood (Dubstar) wore hosiery in one video but I can't remember well enough, I keep thinking black Capri trousers for most of their videos.
I'm grieved and jealous to have read the post about Roison Murphy (Moloko) being a major hosiery fan, because I saw them in Manchester's Sankey Soap in May '98 and it was sooo fricken hot that night, and she was wearing trousers. I'd have loved to have seen her in a dress, I've not seen Moloko since and they were so fricken good that night. *sob*
– Someone mentioned Christina Applegate. Sorry… Not a singer. Not even a lip-synching corporate product like Christina Aguillerra (who poses as a "singer"). Christina Applegate is an actress who started out playing the "dumb blonde" Kelly Bundy in "married with children. " She's since gone on to do a series of her own and to play several acclaimed character roles in various features such as "Tombstone".
– What about those four gorgeous women backing Robert Palmer's Addicted To Love – very sheer on those legs. Dolly Parton always wears hose. She's what modern day women (just shows how the spectrum has swung – lol!) call "ultra-feminine". Yes, Stevie Nicks. I've heard Grace Slick was always turned out in quite feminine attire… watch when the tide turns, and we start seeing today's and tomorrow's female rock stars start flaunt it in stockings – then you'll see some mass pop sex appeal. The mass rock audience – and wider pop culture – will have discovered the sexiest attire! And combined with girdles and foundation undergarments… Of course, being the snob I am, I'm just waiting for the dull somnolent supposedly hip masses to wake up.
– Just thought of a couple more Wendy James from Transvision Vamp, Bananarama, Betty Boo (sheer glossies and black boots), Patsy Kensit (although could she really have been classed as a singer or indeed an actress), Cathy Dennis, Kim Wilde, Allanah Miles (black seams in a video), Yvonne Gage on the front cover of her album in hold-ups back in 1984, but still no sighting of Nelly Furtado wearing them!.
Surely some of our Canadian contributors can surely let me know if she has been sighted in concert, on TV or in photos wearing them?
– What about Lesley Garrett the opera singer? She's rather pretty, seems to have a bubbly personality and, best of all, wears stockings! There's a picture of her on one of those celebrity-wearing-stockings web sites – not too difficult to find I should have thought.
– Not only does the Divinyls' singer wear stockings in "I Touch Myself" but she also does for "Pleasure And Pain" (much sexier video) as well as on the Divinyls album covers – check them out, preferably on vinyl for the larger-sized picture! I think they're Australian.