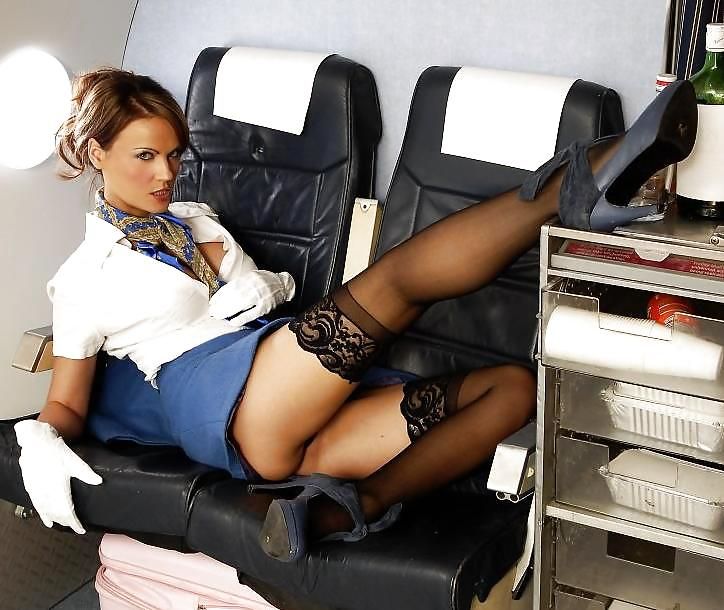 – A couple of weeks ago whilst on a British Airways flight between Hong Kong and London I witnessed a flight attendant in what she no doubt felt was a 'rather embarrassing situation'. I do apologise to her wherever she may be for repeating the story.
The lady in question was serving breakfast from a trolley a couple of seats ahead of me when she dropped a spoon (or some other sort of utensil). She immediately crouched down to pick this item up and unfortunately for her the clips on her suspender belt attached to her navy blue stocking on her right leg released themselves resulting in her stocking sliding down her leg.
Obviously she quickly rushed to the toilet to sort this problem out and after a few minutes she returned to serving breakfast with a rather embarrassed look on her face. Unfortunately she had already served my breakfast so I did not have a chance to put her at ease!
Yet more evidence that some flight attendants still wear stockings while on duty!
– Come to think about it I was on a British Airways flight between Hong Kong and UK many years back and realised most of the stewardesses wore suspenders and stockings partly due to hands on experience when I felt the strap of the 30 year old who was very good looking.
Most stewardesses prefer to wear them because they're comfortable on long haul flights according to a Daily Express article in the late '80s where two stewardesses revealed that they wore suspenders and stockings and showed them to the press!
– I used to work at Heathrow. Every morning on the bus from the car park we used to be treated to the sight of the check-in girls adjusting their stockings. Many of them used to be 17-20 years old, and looked absolutely fantastic even at 5am in the morning!
– This reminds me of a treasured childhood memory.
Whilst travelling across the Pacific Ocean on a British Airways Vickers VC-10, I, as a six-year old boy sat in an aisle seat, and happened to spy a hostess (as they were called then) leaning over the other side of the aircraft. Her skirt was short; my point of view (being seven years old at most) propitious; I got a brilliant upskirt view.
Interestingly, this being the early 1970s, (this is circa 1974) her hemline was short. She wore pantyhose, but her panties were over her pantyhose. For the record, her panties were white and her tights were dark tan. At the time I thought it was strange that she should wear her panties over her tights, since my mother and sister wore theirs under tights.
– I was on a flight coming back from New York last Wednesday night on a BA flight. One of the stewardesses kept smoothing her skirt down and the suspender clips were very noticeable. So chaps there are a few of us out there who still were them
– The best I ever got was flying charter to Tampa in the early '90s. Waiting for my turn for the restroom at the front bulkhead near the kitchen I overheard a conversation of three or four quite good-looking stewardesses. They were comparing brands and textures of hosiery. 'I prefer Cameo to Phantom,' etc. Whenever I hear women talk this way it's music to my ears.