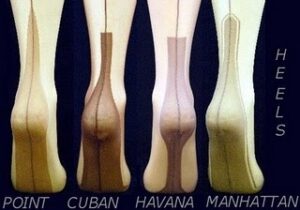 – I have been wearing fully fashioned seamed stockings for a number of years. I seem to recall in Europe a term called "French heel" being used. Is this the same as FF or is it a separate term used to describe the triangle made at the back of the heel?
– Fully fashioned refers to the way the stocking is made – one piece of nylon done in such a way to mimic the contours of the leg, and then sewn closed at the back, creating the seam. Years ago, the foot part and the seam were the same colour or so as the rest of the stocking. At some point someone hit on the idea of doing the seam and foot in black or other contrasting colours as a way to showcase the foot when slingbacks and ankle straps became popular.
The heel style has a number of different names, I guess depending on which side of the pond you're on.
I have been under the impression that a squared heel was a Cuban heel, and the pointed heel was a French heel. However, I know that Secrets in Lace calls them something else entirely.
– I'm pretty sure that in Europe the French heel referred to the triangular shape that ended in a square at the top. I could be wrong. It certainly explains how I have always received blank looks in America when asking for a pair of stockings with a French heel.
– As far as I know (and I've known fully fashioned hosiery for years) a French heel finishes with a point. A Cuban heel finishes with a squared top. These will vary in length and width but as far as I know they are still recognised as Cuban heels. There is also a Havana heel which is much like a Cuban heel. Then there is the Manhattan Heel. It's a fancy edition with a triangle top and a thin outline around the heel and foot. Years ago there were many really fancy heel designs knitted into the fully fashioned stockings. Once in a while you can find a pair at E-Bay. These were works of art!
French heels are simply point heels trying to be posh!