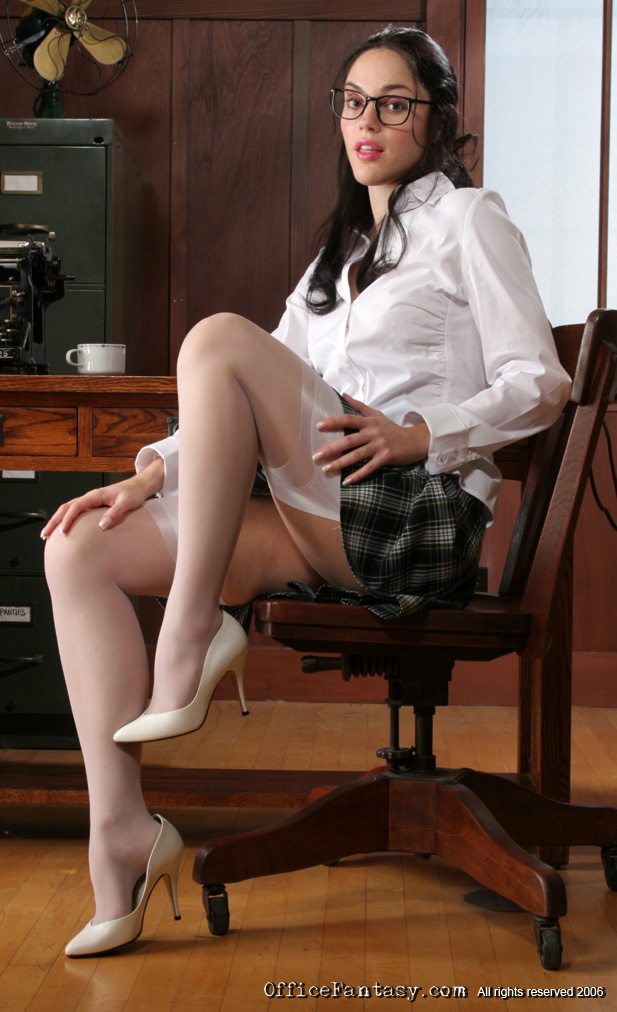 "Early last year I was at Brisbane Airport (one of my favourite places for sightings as business women at airports are a fairly good source of stockings). I was awaiting my wife to pick me up after the trip when a woman came out of the terminal behind me and crossed over to the cab rank. She was a plain looking woman in her 40's with a mid calf dress, but wearing point heel seams, and fairly low shoes, just as if this was her normal mode of dress. This was the first time I had seen point heels and she just jumped into a cab and was off…all in a matter of seconds."
"I was at a music industry awards do (ie for the industry rather than your actual pop stars) in London about three years ago as a guest of one of the nominees (used to move in media circles, darling) and one of the girls from the Ministry of Sound PR team was wearing FF stockings. She must have been early 20s. I was well impressed!"
"Today, I was at the Eaton Centre with my 27 year old Executive Adminstration Assisant, (EAA), on an escalator when I remembered a sighting I experienced just under a year ago. I was riding up an escalator, by the Eaton store, when I noticed a lady, two persons up from me. As she walked the last few stairs up the escalator, I experienced a clear view of her stockings and tops through the back slit of her skirt.
"The experience was enjoyable to me as it appeared that the woman wore stockings as everyday wear. She appeared confident, but also comfortable. A nice sighting indeed.
"I have also noticed my EAA wear stockings and a garterbelt to work on two occasions in the past three months at work. Interesting!"
"Today I witnessed a fantastic sighting – my manager's stockings and suspenders. I had suspected that she was a daily wearer for some time by the hint of straps and suspender-bumps through her skirts, but had convinced myself that I must be wrong. After all, this is the year 2000.
"Not so! When she was sat at her desk, she crossed her legs, clearly revealing the tops of her black stockings and the briefest glimpse of her taut black suspenders! My eyes nearly popped out and I felt very self-conscious with my cheeks burning and my heart thumping away. I could concentrate on nothing else all day.
"For the record, Mrs B. is blonde and in her mid forties. It just goes to show that they are still out there!"
"During the Northern Hemisphere summer last, I spent a couple of days in London on the way home to Oz from a holiday in France. I kept a particularly keen eye out for what I imagined would be a plethora of stockings on the girls in London but I only saw 2, both whilst negotiating the stairs into the underground.
"Back in my home city of Brisbane Australia, I usually see at least one pair of stockinged legs per week. The latest was in the street where all the specialist doctors have their rooms, I saw a receptionist/nurse in a simple white uniform in a shirtmaker style, with the bottom buttons undone. She strode up the street toward me and I nearly fell over as I watched her go past with each step exposing a delightful stocking top. As I watched her go up the hill the straps of her suspenders clearly showed through the white dress… I wonder how the patients feel when she attends to them?"
"As the computer manager at our company, I was asked to repair a PC earlier today. Whilst I was on my back under the desk, the secretary took a telephone call sitting at her chair immediately in front of me, where I was party to the most heavenly of sightings… lace topped stockings, with a white suspender belt!"
"In a town, west of London last week, I got a sighting. On leaving a multi-story car park, an attractive young lady crossed in front of me. She was wearing one of those nice, sprayed-on mini skirts that cling. Nice legs in tan boots and shiny hose. Looked a picture of elegance and neatness and, as I spotted her she pulled down the hem of the skirt. If they need pulling down so much, why have them so short, I wonder.
"Anyway, she turned along the service road in front of me, then with her free left hand reached under the hem at the side and quickly tweaked her stocking top. Wow, hold-ups no less. This was followed by reaching round to the right to pull up the right stocking at the front. Well, my day was made. Nice…"