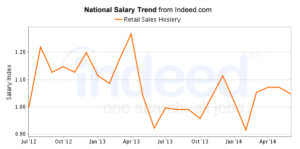 – Manufactures have reported that sales of pantyhose and stockings have dropped from 1.3 billion pairs to 700 million pairs in the last year. It seems like bare legs are the latest style. That is, if you care to look and can stand it.
– Sorry to intrude. I think there has probably been an increase in vintage stocking sales (ie through thrift stores and web sites selling stockings from the '50s era).
– I'm not surprised by the drop in sales – especially over the past year when the bare leg trend has really taken hold. But hosiery manufacturers have to be blamed – they're doing nothing to stand up to the onslaught. Or like corporations the world over they're switching to other products – in this case black opaque tights and cotton socks, or less feminine underwear or other product lines. And the teen and 20-something generation – the key market businesses look to hook for future buying – hardly wear hosiery. The future is bleak indeed. I can see hosiery sections in dept. stores – still the size they've always been – downsized. Hosiery likely will become a boutique item for rare "dress-up" occasions like special events, graduations and weddings. It's in that sense that vintage stockings may make a comeback, but only in that sense.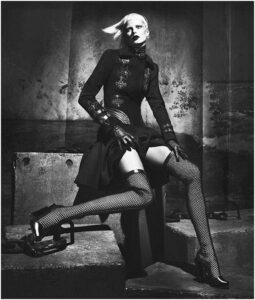 – My goodness! Haven't you seen all the new lines of stockings Victoria's Secret has? They're lovely! And with trendsetters like Versace leading the way the stocking will be on the rise. Most of the trends I've seen are in mainstream lingerie stores which are carrying more and more garters. I'm fairly confident that as soon as the summer is over and the chill of fall settles in, stockings and other hosiery (but especially stockings) will be back in full force.
– My lover has thrown out all her tights and pantyhose and replaced them with stockings and suspenders (garter belts). She is a very feminine lady and I love her. This took no prodding from me, by the way (except that I first mentioned how elegant stockings were). Like quite a few women these days she hates "pantyhose" which she finds constricting.
– I have seen the new stockings Victoria's Secret has out but that's about it. I have been in JC Penney's and they do not carry any stockings at all except in their catalogue. Also other stores such as Dillards, Macy's, and Sears have limited their lines to one type of stockings. I have not seen any garter belts or girdles with garters in any of these stores.
The Victoria's Secret you speak of is the speciality store of Victoria's Secret known as the Hosiery Boutique and there are only fourteen of them in the USA.
– This is actually good news – a drop in sales from 1.3 billion to 700 million means dreaded tights/pantyhose (the vast majority of sales) are falling out of favour. Presumably these figures originate with the pantyhose manufacturers, who don't even seem to like making or marketing stockings.
Maybe the boutique stockings manufacturers are not recorded in these stats, and like the mini-breweries giving the big breweries a run for their money, they might succeed.
The bare-legged look anyway is better than pantyhose. Once a lady (or her man, if he knows how) removes her skirt or dress the sight of pantyhose is anything but beguiling! And styles change.
Women will one day once again want to wrap their legs in sheer hosiery and quite possibly stay-ups will come back as the mode rather than pantyhose, which several women have told me they find constricting or binding around the waist.
From stay-ups it is a short step to stockings and suspenders for more elegant and formal requirements.
Today's Sunday Times of London has a fashion shoot featurirng two women in stay-ups (one a luscious lavender pair from Wolfords) and one of stockings (admittedly conventional black) with a £75 corset.
– I did a little researching this weekend and found a wonderful source – www.legsource.com/LegwearTrendsOnlineIndex.htm . There is an article written in consumer area of April 2001 called " New interest in the Dressed Leg" by Jill Flynt. She specifically states hosiery buyers are asking for a variation on their counter. Number one is fishnets in colours from neutral micro-mesh to sexy black netting. The article also states: " Vintage details are back, such as back seams and high spliced heel details."
– I happened to be browsing through the online catalogue for Speigels, where I spied patterned nylons on the legs of the model of one of the shoe styles. Does this mean that we are going to see patterns of diamonds this fall? Maybe not. I am hoping for a change in trends, though, with more retro fashions being forecasted for the fall here in the US. I am stocking up on my '40s patterns and T-strap shoes!
– Bare legs may be part of the reason for the decline of hosiery sales but there is also another very obvious one – far more women are wearing trousers these days. These statistics only confirm the evidence of my own eyes.
On the bright side I agree that there has been a lot of articles on legs and hosiery in the UK press recently and maybe we are about to see some sort of skirts and stockings resurgence.
– Fashion trends evolve. Hosiery industry sales point out how popular the "bare legged" trend has become. Trousers are a compromise "femin odd skies" equate to equality.
But, it's a fact fashion designers live and die off fashion changes. A small percentage of women cling to the vision of elegance and soft femininity. For me, the question is how long will bare legs be the standard in leg femininity
There is plenty of evidence that positive changes are on the horizon. JC Penny, hardly a leading-edge fashion merchandiser, just released its Fall 2001 catalogue.
The catalogue is loaded with fashionable lingerie, including stockings. At least 10 garter belts are offered with JC Penny's upper-end lingerie. My look at the Spring catalogue produced no comparable offers. A good sign.
The Atlanta-Journal Constitution has featured stockings on its Sunday style page three times since January 1. The AJC highlighted the "vintage femininity" impact on upcoming fall-winter fashions twice.
High-end Atlanta boutiques are promoting stockings and elegant lingerie more aggressively this season than any in the past ten years.
Visit the web sites of upscale US retailers such as Saks Fifth Avenue, Lord and Taylor, and Nieman Marcus. You'll see evidence of the evolving fashion trends. The emphasis on curves and softer femininity is present. The influence of the '40s and '50s is visible.
This past Sunday's AJC quoted fashion and furniture designers as saying the emerging '40s-'50s trends are the strongest fashion trends since the '80s.
Atlanta considers herself a leading-edge fashion centre – just below New York, Paris, London, and Milan. There is plenty of evidence the tide is turning.
I don't believe we will see a return to the elegance projected in the movies of the '40s to mid-'60s projected. I believe the pace of life – more intense in the US – dictates fashion compromises will remain a reality.
While I accept condemnation for seeing the cup half full, remember that it's always darkest just before light!
– As an individual that sees the glass half full, and always sees the silver lining in every cloud, my perspectives are influenced by the upscale culture in my city.
Atlanta is a city of opportunity, with a very large middle class. It is the fashion capital of the South, and home to many upscale retailers. All of this combines with many events and outings conducive to elegant attire.
On the negative side, I attended a polo match on Sunday that was a fund raiser. There were many elegant ladies dressed in hats and fashionable sun dresses. But, ONLY bare legs. The heat index exceeded 100, and Sunday was the hottest day of 2001. But… only bare legs.
As the South is the most conservative area in the US, its fashion mantra is more elegant than leading-edge. I remember reading in the Atlanta Business Chronicle that the Saks Fifth Avenue location in Atlanta's Phipps Plaza sold more 100 percent silk dresses than any other Saks site in the world.
My point is that my perspective is influenced by local culture that is not likely to be reflective of US culture as a whole.
That does not diminish the fact that we in Atlanta are also eat up with the bare-legged perspective of elegance, and the dress-down, casual culture.