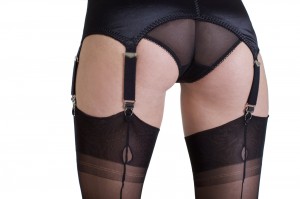 – Some fully-fashioned stockings do have a rather small welt. If wearing a common suspender belt, adjusters can equalise an eventual mismatch of length. But OBGs just have limited stretch and quite short, non adjustable garter tabs, so this could cause problems.
– The problem you are referring to is when the stockings have to expand to fit over the thighs. This is when the welts 'shrink' in length. If you don't have adjustments on the garters it makes it more difficult to get the stocking and garter to match each other and problems occur. The stockings then have to be carefully matched for length to the garters which gives you less options. If you want wider welts the either but a larger size or longer size.
– Some manufacturers make their stockings that way. I found these narrow welts particularly troublesome so stay away from them. These types of stockings have a tendency to slip down the thigh, and become uncomfortable. Try larger welts (and this is a matter of trial and error), and ask before you buy. With the large welts the clips can then be positioned deep down in the welt for a better grip.
– On more comfortable OBGs, the elastic backward stretch panel allows you to pull the girdle's garter tabs quite a long distance straight down to stockings' tops.
– Magnolia FFs have a nice big welt, but their RHTs don't. Touchable(Eleganti) FFs have a big welt. Gio's are not so big. Another alternative is to replace the suspenders on your OBG for ones on which that the length can be altered. Any half decent sewing shop will supply replacement suspender/garter clips with the added bonus that they're usually chrome metal…Nice!
– Well, having worn Magnolia's FFs for a while, I have noticed for me that the welts seem too wide. The issue may be that the darned stockings are too long. I think their sizing runs large. I am going to put another order in soon and try the small size… and believe me, anyone who's chatted with me here knows I'm no small thing!
Since I wear an OBG every day, I kind of like my stockings to be just a smidge too short. It helps to get that perfect pulling sensation. If the stockings are too long, the girdle rides up and just feels terrible!
Also, I like to clasp my FFs right at the edge, so that the keyhole is pulled straight, keeping the seams straight in the back.
– Why not fold over the welts so that you can still get the tension you need, the position of the clasp depth wise will still ensure that your seams stay straight. It's the tension that keeps them straight not the height position in the welts.
– At present I do fold over the welts, and for the most part, that works. However, I have found that an OBG needs a fair amount of tension on it from the bottom in order to keep it from hiking up. Even with folding over the welts, I am constantly having to readjust my girdle. When, for a fluke, I wore a pair of shorter than my norm stockings (just by an inch or two) I was amazed that the seams stayed put, my girdle didn't inch up to drive me crazy, and all was right with the world.
I can't profess that this will work for everyone, but until I buy a garter belt with adjustable straps for those longer stockings, they'll stay in my undie drawer!
For several reasons, FF nylons should have a quite large welt. One among other benefits – there is no need to fasten suspenders on the outer line of the stocking top. Far better is to move and place clips a few inches deeper, more centerwise into the welt. Doing so, just realign the adjusters for suitable tension on the open bottom girdle to hold them up. That's all, it always works.