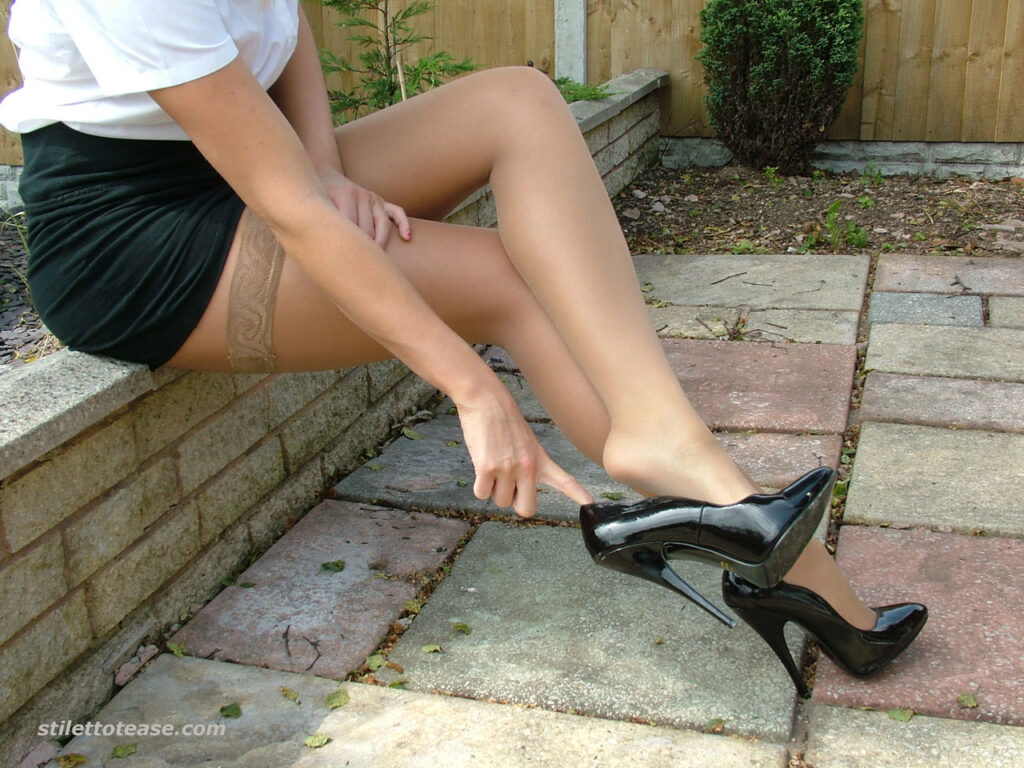 I was at Newmarket races yesterday and saw the following: a girl in her 20s or 30s with brown hair. She was wearing a purple and brown checked coat and a black skirt with a slit up the back. I followed her and her boyfriend up some steps and saw her left stocking top and thigh. She was wearing black stockings. There was also a girl in her 30s with tied up blonde hair. She was wearing a bluish grey suit. The skirt was short with a small slit up the back. As she walked along I could see her left stocking top. She was wearing flesh-coloured hold-ups.
Finally, there was a woman in her 40s with light brown hair. She was wearing a blue jacket and a dark blue skirt. She was sitting on some steps in the stand with her knees up. I could see the tops of her flesh-coloured hold-ups, and her white knickers. Her stockings were very long so that very little of her thighs were visible.
Unfortunately the weather was not very good. It's still very cold in the east of England. I was at the same meeting last year and saw 17 sightings. I just hope the weather improves soon.
– The past couple of days have been very warm, so most women I've seen are wearing short or slit dresses and going bare-legged. In such warm weather I can understand the desire to not wear hosiery, because it would seem to be a bit uncomfortable. However on Friday night I went to the Gary Numan concert, where there were quite a few people dressed in "gothic" black fashion. I saw several women wearing fishnet hosiery, and had a slight "sighting" which I'm not sure is a "true" sighting or not. There was a woman in her mid-20s who was wearing a short skirt and black lace-top thigh highs; the skirt was short enough so that you could see the lace-tops, and I'm sure it was an obvious show. So does this count as a proper sighting, since the woman was blatantly revealing her stocking tops?
– I got a sighting like this the other day. She was in her early 20s and had a black micro mini with white hold-ups about an inch lower than her hem. I looked for sure but it didn't stir me the same way if I'd have just caught a glimpse up her skirt. Same feeling huh?
– Oh definitely – the blatant "revealing" of stocking tops for all the world to see is definitely nice, but not as exciting as taking a special "right view at the right time" glimpse.
– I was at Sandown races yesterday. The weather was appalling so I didn't expect to see any stockings. However there was one girl in her 20s or 30s with brown hair. She was wearing a red suit and the skirt was quite short. As she walked up a step I briefly saw her right stocking top. Her stockings were barely black.
– Today in the centre court shopping centre in Wimbledon a woman on a stall selling Russian dolls was wearing black lace top stockings with a white suspender belt. Her skirt was ridiculously short and clearly showed the tops. Wimbledon is a great place to be
– I know Wimbledon extremely well and can tell you a few things about the town and stocking wearers. I used to work for Elys in the mid-'80s and quite often used to quite often take a 'detour' to the staff canteen and gents, via the lingerie department. There were regular sightings of ladies choosing and buying suspender belts, with the female staff wearing black seams, Jonathan Aston lace and fishnets with seams! What an era !
– The Brisbane girls wearing stockings this week have been out in force with yet another delightfully attractive girl wearing beige stockings that I think were hold ups as they had an unusual welt.
This was at lunch time in Park Rd, where there are a lot of restaurants beneath the "Eiffel Tower". Again it was at the lights and as she crossed over in front of me she had a wicked smile on her face. I think this was a deliberate but subtle display.
I unashamedly did a u-turn to make sure I saw what I saw, and this was in the same street that on Tuesday I saw the girl in high heels on the motor scooter mentioned in my Autumn posting.