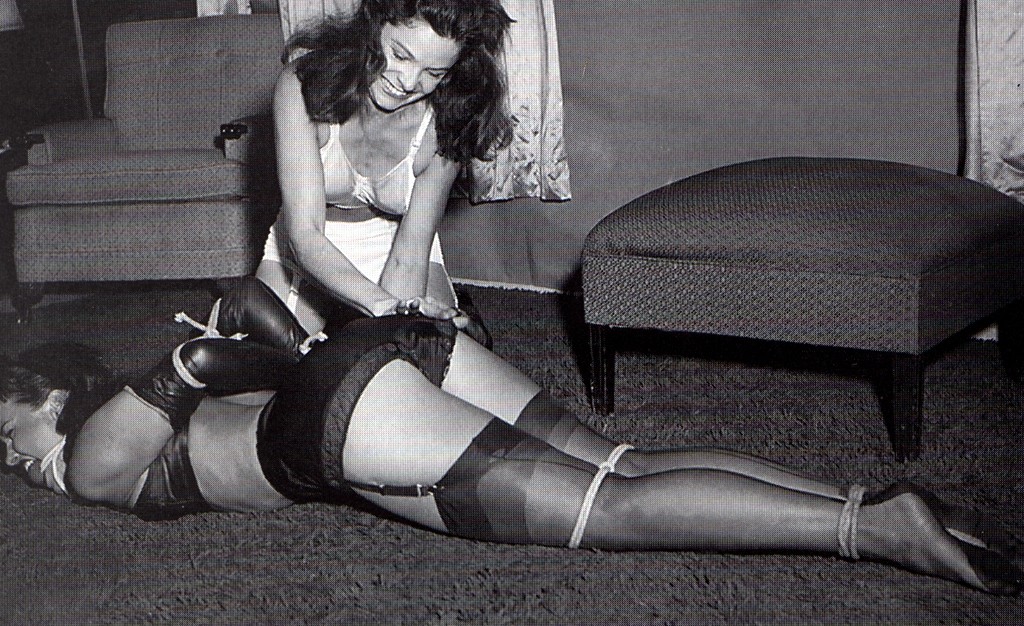 "We feel stockings and bondage go together. It has helped our boredom and saved our floundering lacklustre lovemaking. While we realise bondage isn't for all, it can be great if there is love and trust. Limits must be set. Our hearts went out to a friend who had a boyfriend who tried to force her into anal sex against her will. This is what gives B&D a bad name. If done properly it is exciting and fulfilling."
"We are an old married couple who like to spice up our life, too. Bondage, if mutually accepted, can be extremely erotic and satisfying. Our kids are gone. I retired early and we have found joy in roleplay B&D. It doesn't need to be expensive. You can use things around the house that cost much less. Rope from a clothesline, a practice golf ball for a gag–and what better way to use laddered stockings than for restraints or gags or blindfolds. Bondage can be fun but we encourage sanity and talking limits BEFORE doing it."
"I've always steered clear of getting into this subject here because the bondage thing doesn't necessarily go hand in hand with stockings per se (for a lot of people, that is, although it always does with me) and its a subject about which there is a good deal of ignorance.
"I have tied one of my partner's legs to the bed post. She was wearing white stay up stockings and 5" white heels. She sat on the edge of the bed while I eased her out of the lacy white panties she was wearing. I used the panties to tie her right leg to the bed post, but she had free movement of her left leg, which was still on the floor. I peeled of her left heel and began massaging her stockinged foot and toes. She moaned and leaned back, and I stood up, literally.
"I slipped her heel back on and she lifted her leg slowly and put her foot on the bed, keeping her knee bent. I started kissing her right leg at the ankle and moved my way up her leg. I stood up to kiss her on the mouth but I wouldn't let her grab me. I moved over her left leg and repeated the kissing as I had done on the right. She could not keep her leg still. Every time she moaned and moved, I would stoke her and kiss her. She could not mover her right legs, so I used that to force her to move in different ways than she might otherwise. When I stood up from removing the panties from the bedpost and stood up, she was on me like a vacuum. We licked each other until she collapsed."
"As I often do I turned up at my boyfriend's office dressed rather provocatively with the intent of seducing him. My outfit was my favourite carnation pink suspender belt, matching silk knickers, push up bra, shortish skirt and black silk seam stockings. My hair was tied back and I wore a pretty silk flowered scarf.
"After flashing my stocking tops and rubbing up against Steve the usual happened. In minutes I was panting madly and really aroused.
"But then something happened. Steve decided to tie me up! He tied my wrists with some rope, eased my stockinged legs apart and tied each ankle to each desk leg. But far from being shocked I found myself becoming really aroused."
"I love to be stripped down to my bra, knickers, stockings and suspender-belt and tied up before being made love to. This is quite odd, as I have no real inclination toward 'bondage' as such, only finding it arousing when sussies are worn! I remember, many years ago, when I was about fifteen or so, seeing a film or television programme (I have no idea what it was called). In one scene two nurses had had their uniforms stolen and were tied up, still wearing their full underwear, including stockings and suspenders. For some reason I still cannot explain, it made me hot and dizzy with arousal."