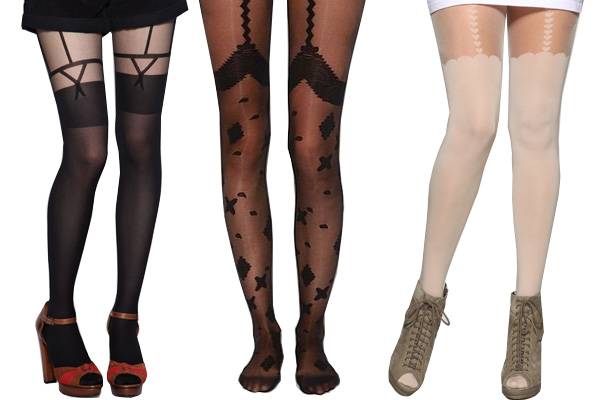 – I was shopping for stockings yesterday and the salesperson offered me a pair of "garter belt" pantyhose which I'd never seen before. I'm sure most of you are familiar with these. They are open, one-piece pantyhose which, when they're on, sort of take on the appearance of stockings and a garter belt. I put the emphasis on SORT OF. The salesperson was actually wearing a pair and lifted her skirt to show me. She tried to sell me the idea that they had the best qualities of both stockings and pantyhose such as comfort, ease of putting on and off, simplicity when going to the bathroom, etc. She failed to mention how unsexy they look! I passed and bought REAL stockings! Has anyone ever worn these atrocities?
– Before I got a PC, I always had a hard time finding real stockings here in Kansas, the heart of the Bible Belt. I used to buy those things and cut the "garters" off and just use the stocking part with my own garter belts. Not very silky or sexy but it worked. Thank God for the net!
– I particularly find suspender stockings (as we call them in the UK) very sexy. Why has it all to be just plain nylon stockings? There's a whole world out there of sexy and nice hosiery to discover, guys. If look at it under a different light, you'll see that hold-ups, and suspender tights can be as sexy as stockings. It all depends on the lady who's wearing them… 🙂
On the other hand, I must admit I DO hate tights, as they are the symbol of anti-feminism and bad taste, let alone the practical side of it. A pair of nice legs must always be complimented by a pair of nice stockings, hold-ups or suspender tights.
– I agree on this one folks. My girlfriend wears these sometimes and it drives me wild. But I would still prefer a garterbelt and stockings any day because you can't beat the sexiness of watching a lady put on or take off stockings, or better yet, taking them off yourself.
– I also find them sexy. They are a nice substitute for the "real thing" and some women prefer them. So instead of trying to push the real thing on them, I'd be happy to accept this substitute… suspender tights or garterhose or whatever you want to call them, they're simply not as evil as pantyhose as people here seem to think they are! Anyway, just my opinion 🙂