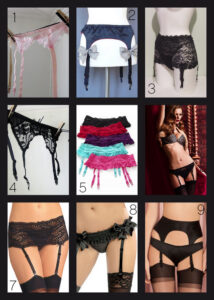 – My wife is one of those women who likes stockings, but she's too shy to wear them outdoors. One of the main problems, I believe, is the suspender belt she wears. Basically she has an ordinary one with four rubber clasps but she finds it too unreliable, as stockings tend to slip downwards with the obvious risk of showing off the stocking tops and the clasps.
Would she be better off wearing one of those classic wide belts with six adjustable metal garter clasps? I've seen the Gabrielle garter belt at Secrets in Lace. Are these suspenders reliable? Do they secure the stockings properly? Also, which are the best kind of stockings to wear if you want to be classy but never show off, nylons or Lycra?
– You may find that the more lacy and showy the suspender belt is, the less likely that it is of any practical use for all day wear. I prefer cotton or non stretch tops and good quality metal clips with no plastic in sight. The straps should be stretchy without being stiff. It sounds like that the stockings that your wife wears are a little on the short side.
Really lacy garter belts aren't for all day wear. Tell her to try the smoother more hip hugging ones. the garter belt should be just snug enough to give her a pleasurable, sensual sensation. It should never be too tight. She should also try to make sure that her stockings are the right length. They should be long enough to comfortably merge with the garter belt. If she's wearing a garter belt with adjustable garters she should have them adjusted to the right length. Finally, when she's putting on the garter belt she should hook the garters roughly one inch or so into the welt. She should NEVER hook them as far as the afterwelt.