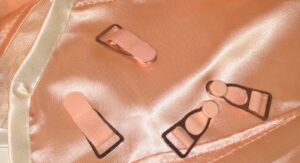 – I'm on the way to converting my wife to becoming a stocking wearer on a daily basis. Because of my preference for nylons, she has already replaced most of her common hosiery with traditional stockings and a suspender belt.
What she complains about is the clear visibility of bumps on close-fitted skirts and costumes. But she likes these kind of dresses. In addition to that, she doesn't feel happy with those fabric or satin ribbons, covering garter tabs and always dangling down aside the clasp. She never understood the real sense of this – what she calls "needless furnishment".
I'm interested in any advice for me to convince her to keeping on wearing stockings and to avoid these harmful effects.
– I suggest that your wife try wearing darker colours, skirts/dresses that have vertical patterns or stripes and thicker fabrics. Also diamond type or criss cross patterns would help.
I expect she might have some long jackets to help cover them up and lastly a slip will also help to smooth the bumps. Keep encouraging her and give her your support.
– Although I wouldn't classify garter bumps as harmful, they can be bothersome to many. I agree with your wife that the ribbons put on the front of the garters are worthless. Even when washing the items by hand, it doesn't take long and they begin to look ratty and frayed.
My solution? Cut them off! I like wearing close fitting dresses and skirts as well, and have discovered that most people don't even pay close enough attention to know that a garter bump is there! Perhaps your wife would feel more confident in a simple open-bottom girdle? I made the switch myself, since I liked the tight uni-butt look that a girdle gives to a tight skirt. Then, the garter bumps are a little lower on the thigh area, and not nearly as noticeable.
I will say there's nothing like a firm backside to give you a little extra wiggle!
– It's natural to feel self conscious the first time you wear something new so for the first few times I would advise your wife to choose something a little looser fitting and made of a non shiny material. Once she gets used to the feel of wearing stockings she really won't be concerned about the bumps anymore, and very probably she will be the only person who notices them anyway.
– I would recommend a long leg panty girdle with the garters turned over. That is, the garter connected to the leg of the girdle with the round rubber nub facing inward toward the leg rather than outward. The combination makes the bump almost indistinguishable.
One of my girlfriends used to complain about the bumps too, until I explained to her that I found looking at them quite a turn on! She often wore shortish tight skirts after that!