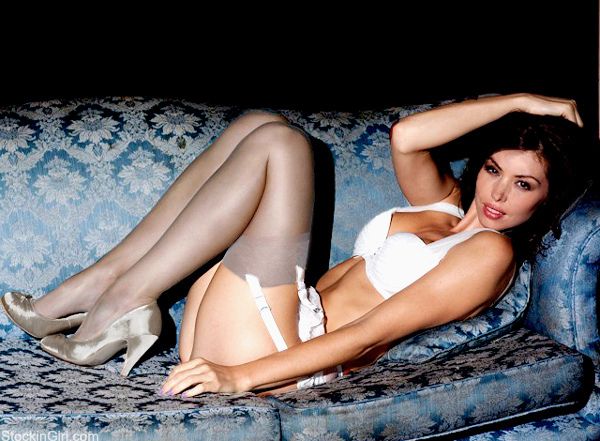 "I just noticed a posting on the Vogue web site fashion forum. A woman didn't want to do 'the whole nylon thing' when dressing-up. Because, get this, 'some people may think that you're a prostitute if you wear nylons.' So that, folks, in the year 2020, is the symbolic state to which stocking-wearing has become.
"Reading the postings here over the past few months I have definitely noticed a transatlantic divide on the stocking issue. In the UK stockings are seldom worn because of the general and lamentable decline in dress standards and trend towards shabby 'casual' attire (which applies as much to men as it does to women).
"There does not seem, however, to be much actual disapproval of stockings and suspenders per se. From the postings of our North American correspondents (and especially those from the US) it would appear that there exists quite a measure of outright hostility toward both stockings and the women who wear them. It seems very odd. Can anyone enlighten the board as to just why and when this hostility developed?"
"Nylons are, these days, associated by the Western mind with sex and prostitution. This is a stereotyped image, which results largely from about 70 years of glamour photos and erotic films. It is very interesting to note that the use of the dildo by lesbians – which was a common feature of erotic imagery but was in fact far removed from the truth – has in the last decade been adopted by the lesbian 'community'. How extraordinary that pornographic images, created by straight men for the enjoyment of straight men, have so influenced the sexual behaviour of those women who – superficially – reject men (whilst they simultaneously admire women who masquerade as men!). Basically, human behaviour is influenced/determined by fashion. The baby boomers, bra burners and the rest of 'em think they're thinking for themselves – in reality, they are just fellow passengers in a never-ending fashion parade. Tell the feminists that nylons are a form of 'female empowerment' – and they'll wear 'em!
"Could some of this be latent emotions placed upon young ladies today by their bra-burning, hairy legged mamas? The baby-boomers' children are in high school and college now, and are probably poisoned with their wacky ideas. I never understood the boomers' whole value system – don't want the children to have a basic moral upbringing, no manners, any sense of right and wrong, etc. because that's all false; people should just suck it up and take you at your lumpiest – but they're afraid to admit that they smoked a little weed in college and slept around – for fear that they'll try it too.
"Here's my other theorem: part of it comes from pantyhose being made now with more Lycra and spandex in them than ever before, which when worn all day, seems to hold the heat and perspiration close to the body. This is especially true in the summer around the waist area.
"As for being thought of as a prostitute for wearing nylons -who gives a damn? Are we all a nation of lemmings?"
"You are not alone in your wonderment of the people in this country: Grunge clothes are an expression of individuality, but a lady who chooses to wear glamorous lingerie must be a slut. Girdles are frowned on but pantyhose manufacturers are doing everything but dipping women in a vat of Lycra up to their waist to ensure that waist to toe compression.
"Pantyhose did NOT replace stockings because there was anything wrong with stockings – they were billed as being more convenient and more suitable for shorter skirts.
"Even on this forum, some posters want to set moral standards on what age is 'proper' for a young lady to wear stockings. There is an impression that it is not possible for a lady to want to wear stockings for any reason OTHER than sex and the gratification of their mates.
"The hostile people one correspondent encountered in the health club last month would not have given her a second thought if she had purple hair and a chain connecting her nose to her nipple! But because she was wearing NORMAL lingerie from the period prior to pantyhose she was harassed.
"Woman need to concede that there are a lot of hypocrites out there that talk out both sides of their mouth and brains. I only wonder what new diseases and maladies will plague woman as, as you pointed out, pantyhose gets more and more confining and restricting. Maybe I need to complete my pre-med studies – might be a run on doctors."