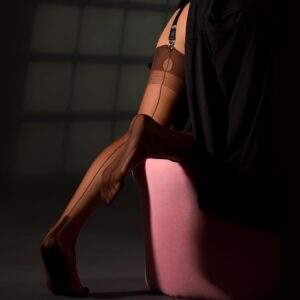 "I want to buy my wife a pair of fully fashioned stockings, and a suspender belt. Normally her tights and stockings are the more modern, stretchable type with lycra. Is the size for the old-fashioned type based on shoe size, ie size seven, or should the measurement be something else (by length, long, medium, etc)? Advice appreciated. And tips on best type of suspender belt (not girdle, but old-fashioned wide strapped suspenders with metal clasps would be good).
"Hope we can help you here. A size seven shoe should be a size ten "10" stocking size. This is the foot size! Most full fashion hosiery comes in three lengths, short, medium and tall. So, you will be looking for a 10/Short, a 10/Med or a 10/Long. Next we should know how tall your wife is? This will help with length selection. Now a suspender or garter belt. High waist or low waist is a matter of personal preference perhaps. Most folks would most likely suggest a six garter arrangement. Three per leg with metal adjustable tabs that offer a straight fastening in the front and back. The third garter is on the side in the middle of the other two. There are a number of good places to purchase suspender/garter belts. Touchable has a nice selection. There are other places also. We would suggest one suspender belt and perhaps two pairs of stockings. Stay with the size ten and try two different lengths. The folks at Touchable are more than willing to help you here. Happy to see you and your wife on the full fashion wagon! It's a fun and classy ride!
"By the way, Secrets in Lace, although America-based, have some very nice 7-inch suspender belts and I believe they have also recently introduced a six-garter belt. Try them at www.secretsinlace.com – I think I prefer their product to Touchable and they also have a line for larger ladies, which is nice.
"I have bought from them and they ship to England – they are also good on exchanges for unused items if you get the wrong size by accident, which happened to me.