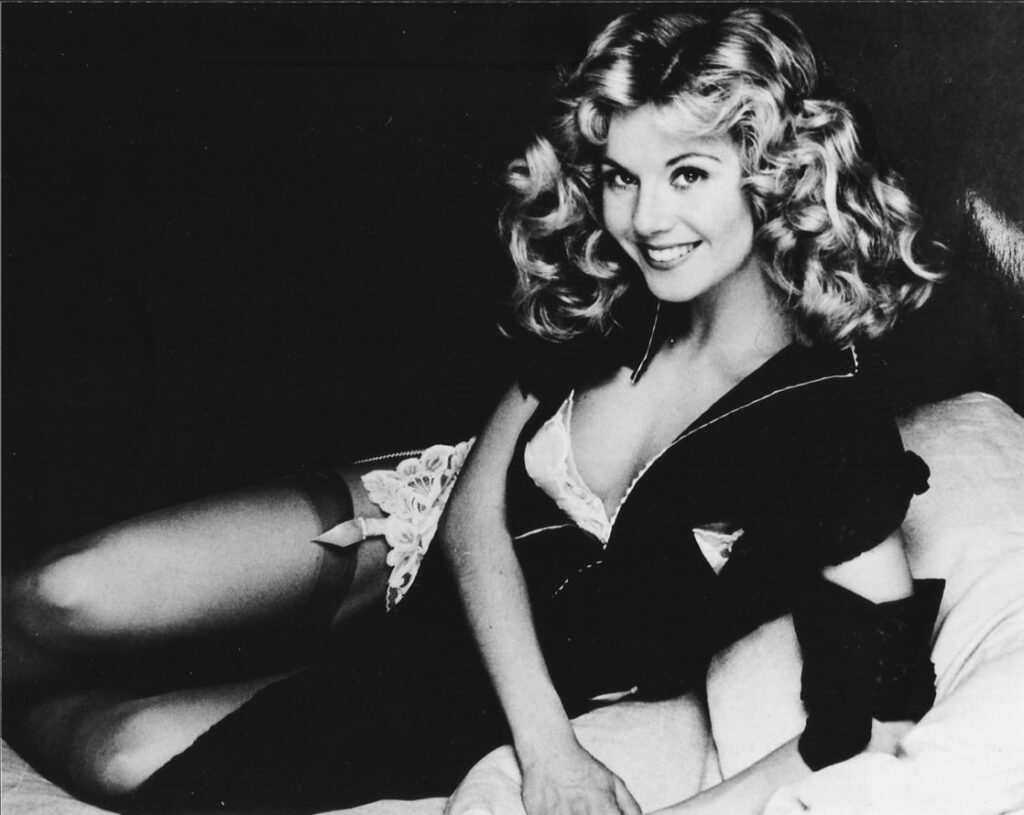 There are stocking lovers all over the world but for some reason British men seem to have a bigger fixation than most – witness the way stockings feature in sitcoms and other TV shows:
1970s:
Benny Hill show – nearly always featured girls running around in their undies – usually including stockings (never tights).
The Good Life – there was an episode where Margo's husband buys her stockings & suspenders & Margo is shocked by his 'fetish'. Her neighbour Barbara persuades her to wear them because it's normal for men to like stockings.
Are You Being Served? – department store sitcom. The shop runs a lingerie promotion and the lovely Miss Brahms gets to pose in stockings.
Girls of Slender Means – drama about a posh girls college (I think) in the '50s. In the last episode, girls have to clamber through a window to escape a fire, showing their stocking tops.
Dave Allen show – there was a sketch with Allen as an RAF officer and a girl stripping out of her WAAF outfit but I can't remember the details.
1980s:
Allo Allo – sitcom set in wartime French cafe. Characters include two sexy waitresses and a female Nazi officer, all three got to show off their stocking tops.
Only Fools and Horses – Del-boy discovers his new girlfriend works as a strippergram. He's shocked and berates her for 'running around in stockings and suspenders'.
1990s:
Goodnight Sweetheart – unusual sitcom in which the hero time-travels between today and the 1940s. In one episode a friend sends him a strippergram in wartime WAAF uniform. In another, he gets confused and buys a pair of tights for his 1940s girlfriend.
The Lakes – gritty drama has two amazing stocking-related scenes. In one, a man catches his wife preparing to meet her lover – he beats her up and tears off her suspender belt. In another scene, a woman mocks her bedridden husband by parading around his bed in her undies. She gives a remarkable speech about the sex-appeal of suspenders.
Maybe this is just my 'selective memory' but my definite impression is that British TV scriptwriters will grab any pretext to throw in a stocking-related scene!"
In your list you forgot one of the ultimate British stocking programmes of the 1980s. That was Jane starring the wonderful Glynis Barber. If you haven't seen it, imagine a beautiful blonde actress in a part which requires her to shed her clothes every couple of minutes to reveal her in bra, French knickers, suspenders and tan FFs. The series was based on the 1940s comic strip from the Daily Mirror.
I have two photos of her dressed in this kit…she was FANTASTIC! The show was repeated on UK Gold but I have only ever seen it at a convention."
Glynis Barber as Jane was truly wonderful. Also Suzanne Danielle played the female baddie and there was a wonderful scene where she slid down a banister with black FFs on full display.
I used to have the whole series on an old V2000 VCR, but sadly it's bitten the dust now. I've always longed that the BBC would repeat the series…"
In reading all of the posts in this string, one thing that strikes me is that all of the shows where stockings could be sighted were shows portraying people in real circumstances, or in comedic situations that could happen. What I'm trying to say is that it seems that for you all across the pond, stockings aren't looked upon as the first indications of a woman with loose morals, as they seem to be here in the States.
All of the movies mentioned with American actresses used stockings as an erotic or sexual part of the film (intentional) rather than maybe as accepting it as an option of clothing, like anything else."
In the Brittas Empire ('90s sitcom) a receptionist gets a pervy phone call from a guy asking her whether she wears stockings or tights (she says she prefers tights because they're more comfortable)"
Whilst I can't disagree with a word above (except that "Women of Slender Means" was set in the Second World War – the scene of the girls climbing out of a window – vividly remembered by me – was after a bomb had hit the house), certain American examples also lead me to believe that our American cousins are similarly fixated:
Twin Peaks (movie and TV series – the latter had numerous stocking scenes)
All those films from the 1980s and 1990s with such stars as Melanie Griffiths, Kathleen Turner, Sharon Stone, Sean Young, Julia Roberts etc.
But, more importantly, European films and TV programmmes have far more stocking content than most English films or TV series. A casual glance at satellite TV will confirm this. Some of their soap opera type programmes are full of them.
Before I forget: The Vice on ITV last night had a nice stocking-top shot of a man fondling a waitress cum prostitute and her stocking tops were clearly visible. AND, more importantly, Tanya Beckett was showing off her lovely legs and (I'll have to check my recording of it) what looked like a glimpse of stocking top: at about 8.50a.m. (BBC Breakfast News), today."