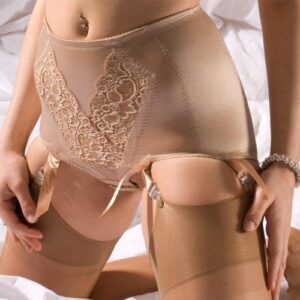 – I recently returned to wearing pantygirdles. The legs have rows of rubber, presumably to hold up stockings. What are your experiences with this method, good and bad?
– In the good old days when my fetish was 'forming' I remember seeing LLPG's for sale in an underwear catalogue, featuring gripper bands to 'prevent tights and stockings wrinkling'. From this, we can assume that the bands aren't expected to do the whole job of securing stockings (they would soon slip out) but to add an extra layer to keep them taut, rather as a belt contributes to keeping a shirt tucked in.
– The rubber bands were grippers purely for minimizing the sagging in the early days of pantyhose (tights). Drooping pantyhose was a big problem when they were first introduced and was the reason many ladies resisted switching from gartered nylons. Unfortunately manufacturers solved the sagging problems.
– Bad idea. A pantygirdle usually has attaching garters which will work better than the rubber you mention. However, an open girdle with garters will hold you stockings up tighter and higher, and is much more pleasing to look at.
– I have, in my collection of vintage hosiery, the following, from the USA: a matching pair of stockings and pantygirdle, in a single package. The pantygirdle is of about 70 or 80 denier nylon, and the stockings are of 15 or 20 denier, but the same colour – beige. The two were meant to be worn together, with a rubber strip inside the legs of the panty-girdle the ONLY form of support for the stockings.
This get-up, I believe either pre-dated pantyhose or was introduced at about the same time. When worn, it is meant to give a smooth effect (like wearing pantyhose but with the panty and hose separate from each other – presumably intended to give the best of both worlds!). In reality, I have no doubt that this was not an efficient method of supporting the stockings, which is why this get-up was short-lived, and, I assume, that very few of you will have heard of it!