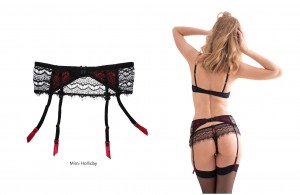 – My boyfriend has pointed me to this site and I must say, it's very impressive! I had previously thought everyone took stockings for granted – you still see racks of them on sale in places like M&S; I had no idea they were so 'under threat'!
I am a manager for one of the big mobile companies in the UK (think fruit) and regularly wear hold ups for work. I am 37 and did wear stockings and suspenders for years until about 10 years ago. I used to have matching sets of lingerie back then in all sorts of colours (soooo eighties!). My boyfriend asked me yesterday why I stopped wearing them and the answer I gave was that my husband at the time just took it so for granted and didn't join in with what I daily considered to be a thrill, going out in lovely underwear. I never went off the product in a 'they're inconvenient/uncomfortable' way; just lost interest in pleasing myself in isolation.
Anyway, the point of this mail is to get some advice from the girls on how best to get the suspension correct. My boyfriend bought me a new belt last week. It has six straps and chrome clips. I have been wearing it all week with contemporary stockings and it really does make me feel special. It is comfortable and makes me feel very feminine. The only complaint is that after a while, it starts to pull down onto my hips (it couldn't be any tighter on the waist as it would nip). The stockings just get lower and lower and because they are stretchy they don't wrinkle but the tops end up just over the knee for everyone to see. I sat in a meeting last week tugging my skirt down as some of the guys were ogling (it was OK, we actually had a bit of a laugh about it and I got called a 'saucy mare'!); but…it's not really me at work to be honest. I also got some Gio black seamed stockings from a shop in the Metro Centre at Gateshead and wore them on Thursday evening in Covent Garden. My boyfriend was a bit taken with my reaction as I see them as hopelessly elegant and sophisticated whereas he assumed I'd be self conscious and consider them tarty. I think they are so feminine and intend to get lots of colours and styles. The only complaint is that by the end of the evening they were peppered with tiny little holes and clicks and I really do pride my self on being delicate with such things. Any advice on where I can get some more robust ones as I used to buy stretch FFs in the eighties and they were nowhere near as delicate?
One last question: I absolutely love the clothing styles of the forties/fifties (American) and would like to find out if there are any retailers who stock pencil skirts, tailored jackets and pill box hats etc. Does anyone know of somewhere that might be able to help?
– If your suspender belt is slipping down then you have serious problems. You can only tighten it up to cure the problem. It sounds like its a little to stretchy and needs to be non-stretch so it doesn't slip and fits properly. You must get this part right or else you'll never wear stockings comfortably or securely.
Secondly, your stockings are too short and you need to wear at least one or two size larger and wear them up the top of your thighs. here the straps will be shorter and provide much more support. This will then help you with the FF stockings in helping to wear them successfully.
– I love my six strap garter belt. The one I have is the classic and it's made of power net and a silk like fabric which I find fits great. On any stockings you do need to get them right up to the top of your thighs so they don't slide, this is especially true for the stretch ones. I have found the FFs don't have this problem so much if they are the right length. I usually want my stockings to be about 37″ to 39″ long. I have a wider leg and I am 5′ 2″ tall. I find the long skirt length and the high on the thigh length works well to avoid flashing a stocking top or garter.
– I'm 5′ 7″ and usually find stockings come not too far over my knee! I actually quite like this and adjust the straps to max length but realise now that with real nylons, it can pull the belt down. I believe that the vintage belts did have much longer straps to take account of this! I know the aficionados will shrink but I always found that the FFs I wore in the eighties were the answer: real FFs with finishing loop (my boyfriend is bringing me up to speed with the esoteric terminology) etc. but incorporating Lycra. Why did they have to stop these!? They were excellent for everyday wear (many wore them for work then) whereas the real, sheer ones with their more finicky demands were perfect for a few hours' evening wear.
– I had a girlfriend in the mid-'80s who at my instigation often wore Charnos 15 denier stretch FF stockings with a point heel. She found these as comfortable to wear as any others. They didn't wrinkle or sag and the seams stayed straight. One of the little thrills for both of us was that from the front and sides they looked just like any other reasonable quality hosiery, but a turn to expose the rear view confirmed that they not only had seams but they were fully-blown FFs. They were in a variety of colours from pale and darker tan to nearly black, grey and navy. They disappeared off the shelves shortly before Aristoc Harmonys and the slightly disappointing Pretty Polly Nylons did. They were pretty enough for dressing up but practical for work too.
I often used to see another lady who wore these on a daily basis. The tan shade again looked just ordinary, until she turned around. Wouldn't it be great if they started making these again!
– A lot of good advice here, and I have just a little to add. I certainly agree that stockings should be as long as possible for your leg length. Fully fashioned stockings in particular are best supported from a garment with short garter straps. Placement of the garters on the garment is also important. When the rear garter is well to the back, it can be fastened directly above the seam so the seam will be straight and taut. In any case, the garters should be fastened to the stocking directly below where they are mounted. Otherwise, the stocking will twist on the leg. I find that a lightweight OBG with six garters does a great job.
– I have to agree about the OBG suggestion. I switched to girdles early on in my stocking adventure, and have never gone back.
I agree with you that certain brands of stockings get picks and catches faster than others. I have discovered that for day wear I prefer a thicker stocking weight, say a 30 denier as opposed to a 15 denier.
Remember: classic six-strap suspender belts are now for sale in the Stockings HQ shop!