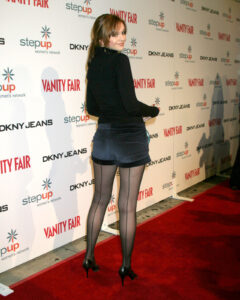 Amber Rose Tamblyn (born May 14, 1983) is an American actress and poet. She first came to national attention in her role on the soap opera General Hospital as Emily Quartermaine, followed by a starring role on the prime-time series Joan of Arcadia, portraying the title character. Her feature film work includes roles in The Sisterhood of the Traveling Pants, The Grudge 2, The Ring, and 127 Hours; she had an extended arc as Martha M. Masters on the main cast of the medical drama House, M.D. She also had a starring role on the CBS sitcom Two and a Half Men as Jenny, the illlegitimate daughter of Charlie Harper.
Tamblyn's first TV role was Emily Bowen (later known as Emily Quartermaine) on the soap opera General Hospital, a role that she played for six years (from 1995 to 2001). She also starred in "Evergreen", the pilot episode of the revived Twilight Zone series on UPN in 2002. Tamblyn became better known playing Joan Girardi, a teenage girl who receives frequent visits from God, on the CBS drama series Joan of Arcadia. Tamblyn's father made several appearances as God in the form of a dog walker on the show, which ran from 2003 to 2005.
Early guest starring roles include: Buffy the Vampire Slayer (playing Janice Penshaw, the best friend of Dawn Summers), on Boston Public, CSI: Miami, and Punk'd (where Ashton Kutcher and his crew members tricked her into losing someone else's dog). In 2007, Tamblyn starred in the CBS pilot Babylon Fields, an apocalyptic comedic drama about the undead trying to resume their former lives. The CBS network excluded the show from its fall 2007 programming lineup, since it would have competed with the network's other undead-themed drama, Moonlight.
In spring 2009, Tamblyn starred in The Unusuals, playing NYPD homicide detective Casey Shraeger in this notably acclaimed crime drama. The show was canceled after its first season. In the same year, Tamblyn had a recurring role alongside her then boyfriend (later husband) David Cross in the IFC sitcom The Increasingly Poor Decisions of Todd Margaret.
In November 2010 until April 2011, Tamblyn starred as medical student Martha M. Masters, in a story arc of the seventh and eighth season in the medical procedural drama House.
In August 2013, Tamblyn was cast as Charlie Harper's long-lost (and previously unknown) lesbian daughter, Jenny, on the long-running sitcom Two and a Half Men. Her first appearance was on the season 11 opener, September 26, 2013