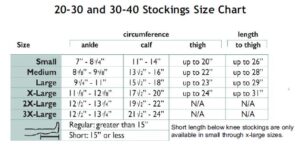 The main reason stockings twist or sag is because the size chosen is not the correct size for yourself. The fit also depends greatly on the yarns the garments are made from.
For a good fit, try to stick with a broad fold product (ones in the square large packets) as these usually have been knitted in a leg shape and then boarded. Boarding is where the leg is steamed while still damp from dyeing – giving further enhancement to the shape and fit.
A general guide to mainstream manufacturers is as follows:
Pretty Polly: Usually dead on as regards to size given on the size charts.
Charnos: Although these tend to look extremely large, this is due to the yarns used. Even so they tend to be longer in the leg than indicated.
Aristoc: Slightly shorter in the leg than on the guide given. I personally think this stems back to when they made fully fashioned nylons as stockings were worn shorter than they are today.
Cette: Usually correct
Wolford: For customers outside of Austria where they are manufactured we normally find that you need to come down one full size.
In general 100% nylon stockings with no Lycra will vary depending on the size and shape of the lady's leg. With no additional stretch, if the leg is fuller the stocking may come up short. If the leg is thinner then the stocking may come up long. We always say you have to be 100% honest with yourself to ensure the garment you choose fits correctly.