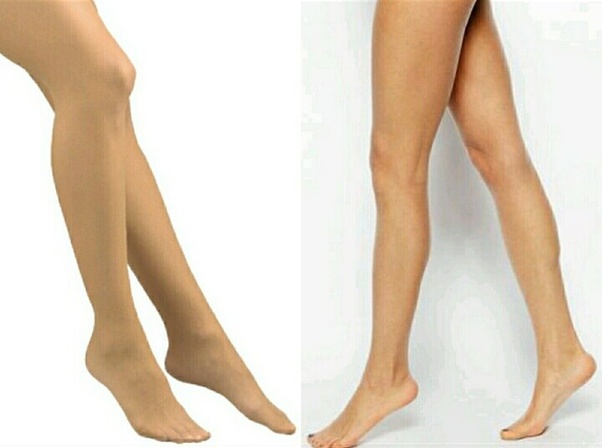 "I am new to this site, and I must admit, not a stocking wearer. However I am intrigued. I would like to hear from the women who frequent this site as to the benefits of wearing gartered stockings versus pantyhose. Why did you decide to switch to this older style of hosiery? Don't you find wearing garterbelts, etc inconvenient or uncomfortable? Considering modern fashion trends, why do you wear any hosiery at all? (Why not just go barelegged or wear pants?)"
"I wore pantyhose for quite a few years, and I had no real problems. Stockings are something else (once you sort out any little initial problems) and are for those who choose not to follow the flock. I prefer only four-strap suspenders and mid tan to light coloured stockings – never black, as they do not flatter my legs.
"My theory is that wherever I wore pantyhose, I can wear stockings. If you are self-conscious, try them under longish skirts or pants or jeans. This will get you used to them and allow you to find out any weak spots, without being too embarrassed."
"I'm 25 and I'm a rather big redhead and have worn stockings and gbs or obgs since I was 18. Pantyhose were just plain uncomfortable and never seemed to fit my body right. I still have trouble with some stockings being too short and too tight around my thighs. My best fit is from Berkshire in a Q2 stretch. I never wear anything but 2-3" heels in slides (mules) and strappy sandals as they also feel better on me and I can kick them off quickly under my desk.
Go barelegged? Not a chance. My skin tone is alabaster with splatters of freckles! I wear hose even with shorts and always with jeans and certainly with dresses, skirts and suits. Occasionally, when a boyfriend begged, I've even worn them to bed paired with an oversized (man's) shirt.
"I dislike pantyhose and think they are overrated. I'm a stocking girl & proud of it!"
"In the (hot) summertime, stockings are much more comfortable than pantyhose, and as hosiery is a requirement at work, I started to wear the stocking type some years ago. After getting used to it, I even wear them during the cold times. My experience is that it is more a question of getting used to the stockings, – if you are used to them you never think about it. I know pants are possible too, but they are even more uncomfortable in the summer.
"I got to the point where pantyhose were just terribly uncomfortable. I have a desk job, so most of my day is spent huddled over a hot computer. Pantyhose dug into my midsection and I generally felt miserable.
"I began with a garter belt, but in a short amount of time went to girdles. I'd always admired the look of women in films from the '40s – their walk, their sense of style – and in the process of doing a lot of research, decided that girdles and stockings were the way to go.
"As for your comment regarding bare legs, I know it's a choice, and it's one I don't wish to make. Unless you spend hours a day with a personal trainer and a lifetime supply of Tan In A Can, no-one's bare legs look THAT good! The beach, notwithstanding. I have never been one to run with the crowd, and I don't intend to start now.
"I do like wearing pants, but every female in Boston, MA seems to wear them – and believe me, the prevailing silhouette is not forgiving to us with a more feminine figure. I am waiting for the day when trousers a la Katharine Hepburn return to style.
"Plus, with a good firm girdle, a nice pair of stockings and a pretty skirt, you can have the men falling at your feet! Swish those hips, honey! That's why Mother Nature gave them to you!"
"In my case I got the idea from a therapy book. At first I had the same views as you do, I was very comfortable in my pantyhose and felt that a garter belt and stockings would be uncomfortable. But I wanted very much to improve my relationship with my husband. So without him asking me to do so I got a garter belt and stockings from Victoria's Secret and put them on. My husband did not react overly enthusiastically. I found that by wearing them for short periods of time each day, I got more comfortable. I also had suggestions from people on this forum to be sure to get a garter belt with metal garters and one that was designed for everyday use. I did and it was much more comfortable.
"Over a period of four months I became more and more comfortable with a garter belt and stockings. I had heard that wearing stockings can reduce the chance of yeast infection and I must admit that at least your pelvic area is able to breathe more openly and hence you don't sweat as much.
"I still wear my slacks and pantyhose, and even thigh-highs. But the most important thing I want to let you know is that by far the most important thing to me is knowing that if I want to wear stockings and a garter belt it is my own FREE choice and no one will make me. Freedom of choice is a very powerful motivator."