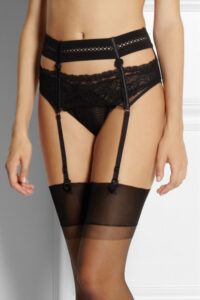 Ask women why they don't wear stockings and there's a fair chance they will simply consider them unpractical. That's not surprising when most suspender belts (or garter belts depending where in the world you are) are built for the bedroom. The tend to be a bit flimsy, with four straps and plastic clasps, and if they stay on for 20 minutes of passion it's an achievement. (Any longer than 20 minutes and you've got nothing to complain about anyway!)
Therefore, the most important thing is to buy a belt that is actually designed to do the job of holding up stockings. Do that and the clasps will not come undone. Stockings will seem suprememely comfortable to wear. You will wonder why you ever bothered with gussets. Trust me on this!
The first thing you need are metal clasps. Do not expect belts with plastic clasps to serve any practical purpose. Metal clasps grip the stockings and don't come undone. Get that rights and you're nearly there. Then you need to choose the number of straps. Belts usually come with either four or six straps and six-strappers obviously give you more support. Unfortunately you will not find six strap metal clasp suspender belts in very many shops – but they are available now in the Stockings HQ shop! And that's not just an advert – it's part of the mission!
For maximum support you could also consider a girdle. Don't be put off by the name: think of them as extra-deep suspender belts that are absolutely foolproof and you won't go far wrong! Again there are girdles in the SHQ shop.
For evening wear and special occasions the choice is much more varied. You could think about a basque for special occasions or just for those heavy drinking moments when you need some help staying upright! A basque with shoulder straps will give you even more support as your shoulders will then help to keep things in shape. A six strap metal clasp basque is coming here very soon…
Top quality belts will have different length straps on the front, back, and sides. If the belt has four straps the back pair should be an inch or two longer than the front. If you've got six straps the back pair should still be longest: an inch longer than those at the side, which are in turn an inch longer than the ones at the front.
Seamed stockings are the ultimate in chic, but you may find that the seams have a life of their own. To keep them straight, avoid belts that place the straps at the side and instead look for one which has them further round to the back. This is especially important if your legs are slim.
Now for the stockings themselves. When tights came along they were seen as the comfortable, convenient alternative to stockings. Obviously nonsense. Don't worry, as the latest microfibre technology means that stockings can be every bit as comfortable as tights – in fact often more so as you don't get the drooping gusset that all wearers of tights know so well.
The length of the stockings is all-important: if you love short skirts it will pay to make sure the stockings come quite far up the thigh. If necessary, buy a size larger than you are used to. The suspender belt straps be can be adjusted to take up the slack. For maximum leg coverage you may find that corsets offer the shortest and highest straps.
On the other hand if you have shorter legs, it is also possible to attach the suspender further down the stocking top, or welt, to create an appealing gathered effect, reminiscent of so much '50s glamour.
When you first switch to stockings you may find they try to pull the suspender belt down, particularly if they are too short or if they stretch when you sit or kneel down. If your stockings contain Lycra you can keep the straps tight as the Lycra makes the fabric far more stretchy than nylon alone.
Stockings are easy to wear and simple to care for. Within a few days you will be a past master. The return to elegance is like the return of an old friend, and soon you will wonder why you ever sent her away.